Your binder contains too many pages, the maximum is 40.
We are unable to add this page to your binder, please try again later.
This page has been added to your binder.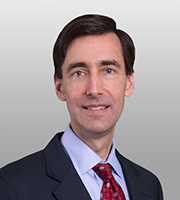 Robert Wick represents corporations and financial institutions in antitrust cases and class actions. He has obtained favorable results for his clients in courts across the country, including notable successes in multi-billion dollar matters and a $50 million recovery that he obtained for a corporate plaintiff. He has been named American Lawyer's "Litigator of the Week" three times for his success in defeating high stakes antitrust claims prior to trial. He has served as lead counsel for financial institutions and corporations in over seventy class actions and state attorney general actions asserting a variety of antitrust, unfair and deceptive practices, RICO, ERISA, FDCPA, FCRA, TILA, False Claims Act, and common law claims.
Persuaded district court to overrule a multi-district litigation court and dismiss a $3.5 billion antitrust claim shortly before trial; successfully defended the ruling on appeal in Motorola Mobility, LLC v. AU Optronics 773 F.3d 826 (7th Cir. Nov. 26, 2014).
Persuaded district court to dismiss with prejudice a consolidated set of antitrust class actions filed against a leading investment bank. See In Re Zinc Antitrust Litigation, 2016 WL 93 864 (S.D.N.Y. January 7, 2016).
Defeated class certification in nationwide mortgage class action. See Ellis v. JPMorgan Chase & Co., 2015 WL 9178076 (N.D. Cal. December 17, 2015).
Persuaded the court in In Re Tax Sales Certificates Antitrust Litigation (D. N.J. 2013) to dismiss a consolidated set of antitrust class actions against three financial firms.
Representing a leading financial institution in MDL antitrust class actions relating to U.S. Treasuries.
Representing a leading investment bank in nationwide antitrust class action relating to interest rate derivatives.
Represented IBM in multi-billion dollar class action that ended successfully with the Seventh Circuit's decision in Cooper v. IBM, 457 F.3d 636 (7th Cir. 2006).
Represented a leading financial institution and obtained a favorable settlement in multi-billion dollar antitrust case against major credit card issuers.
Represented a technology company in an international arbitration in which the company prevailed and obtained a $50 million award.
Persuaded the court in In Re Trilegiant Corporation, 2014 WL 1315246 (D. Conn. March 28, 2014) to dismiss a consolidated set of RICO and unfair practices class actions against leading financial institutions.
Obtained dismissals of a series of "robosigning" and unfair practices class actions against a leading financial institution.
Persuaded the U.S. Supreme Court to grant review and reverse the Second Circuit in the groundbreaking ERISA decision in Conkright v. Frommert, 130 S. Ct. 1640 (2010).
Am Law Litigation Daily, "Co-Litigator of the Week" (1/15/2016)
Global Competition Review, "Co-Litigator of the Week" (1/12/2016)
Am Law Litigation Daily, "Litigator of the Week" (12/4/2014)
Law360 "MVP" in Competition Litigation (November 2014)
Am Law Litigation Daily, "Co-Litigator of the Week" (1/30/2014)
Global Competition Review, "Litigator of the Week" (1/28/2014)
Legal 500 US, Finance - Financial Services: Litigation, Antitrust - Civil Litigation/Class Actions (2017), Dispute Resolution - Securities Litigation - Defense (2017)
Washington DC Super Lawyer, Antitrust Litigation and Class Action Litigation