Our Website Uses Cookies
We and the third parties that provide content, functionality, or business services on our website may use cookies to collect information about your browsing activities in order to provide you with more relevant content and promotional materials, on and off the website, and help us understand your interests and improve the website.
For more information, please contact us or consult our Privacy Notice.
Your binder contains too many pages, the maximum is 40.
We are unable to add this page to your binder, please try again later.
This page has been added to your binder.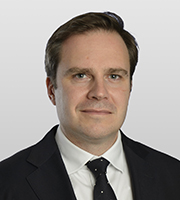 Jeremy Wilson is a partner in Covington's London office and co-chair of the firm's International Arbitration practice. Mr. Wilson advises and represents parties in price review disputes, investor-state matters, and commercial arbitration matters, including in both ad hoc proceedings under the UNCITRAL Rules and institutional arbitrations around the world, including under the rules of the ICC, HKIAC, the SCC, and the LCIA.
The Chambers UK Guide to the Legal Profession (2018) ranks him as a leading lawyer for Arbitration. Clients note his "impressive analytical and tactical skills" as well as his "quick and thorough understanding of complex legal issues" while market sources have noted how he is "excellent on the law and very charming."
Representing Ukraine's state-owned oil and gas company, Naftogaz of Ukraine, in an investment dispute with the Russian Federation.
Representing an international media company in Hong Kong-seated HKIAC arbitration proceedings in a dispute relating to one of the most watched television shows in China.
Representing one of the world's leading solar companies in a London-seated LCIA arbitration in a dispute relating to two solar power projects in the United Kingdom and Europe.
Advising a consortium of Asian buyers in a price review with an Asian seller under two LNG SPAs, with a value in dispute exceeding $800 million.
Representing an investment company in an LCIA arbitration under the terms of a shareholders' agreement with a value in dispute exceeding $80 million. The dispute relates to the operations of an oil terminal connected to the CPC pipeline.
Representing the oil trading affiliate of a major international oil and gas company in a multiparty arbitration (seated in Stockholm and under the UNCITRAL Rules) concerning the component variables of a complex quality bank calculation.
Advising a leading state-owned oil company in a pricing dispute regarding a long-term crude oil supply contract with a sum in dispute in excess of U.S. $16 billion.
Representing a Middle Eastern investment company in an LCIA arbitration relating to multiple oil investments in Iraq.
Representing a European gas utility company in a contract price-revision dispute under the UNCITRAL Rules relating to three long-term LNG contracts with a sum in dispute of approximately U.S. $4.5 billion.
Representing an industrial conglomerate in an investment treaty arbitration against a Balkan state in the Permanent Court of Arbitration at the Hague (under the UNCITRAL Rules).
Representing a European gas utility company in a large ICC arbitration valued over U.S. $2 billion against a North African state-oil company relating to a complex contract price revision dispute.
Representing a Korean steel company in an ICC arbitration against a Dutch international welding and cutting company.
Representing a Russian electricity trading and holding company that operates one of the largest power stations in southeast Europe in an ICC arbitration brought by three Moldovan electricity distributors.
Representing an international petroleum company in two UNCITRAL arbitrations, valued at approximately U.S. $2 billion arising under multiple contracts concluded with a North African state oil company in relation to the exploitation of a crude oil field.
Advising an international oil company on a price review with a European energy company under a long-term gas sales agreement governed by Norwegian law.
Memberships and Affiliations
Chambers UK, International Arbitration (2014-2018)
Chambers Global, Dispute Resolution: International Arbitration (2015)
Legal 500 UK, International Arbitration (2014-2016)
Euromoney's Guide to the World's Leading Experts in Commercial Arbitration (2013)