Colin P. Watson
Special Counsel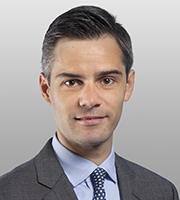 Colin Watson litigates insurance coverage disputes for corporate policyholders. He has acted in state and federal courts around the country, and has pursued coverage for a range of underlying liabilities, including mass tort, professional liability, and shareholder claims, as well as for first-party property and business interruption losses. Mr. Watson has helped obtain significant insurance recoveries for clients in multiple industries, including energy, financial services, real estate, and sports. In addition to his insurance practice, Mr. Watson has significant experience litigating a broad range of commercial and non-commercial disputes involving, among other things, securities fraud, breach of fiduciary duty, anti-competitive conduct, false advertising, trademark infringement, and employer negligence.
Mr. Watson also maintains an active pro bono practice, regularly representing individuals, including prisoners, in a variety of matters. Recently, he was one of only ten recipients of the New York State Bar Association's Access to Justice Award, for his contributions to public service. Mr. Watson's pro bono work also earned the firm the 2015 Hon. J. Clarence Herlihy Award from Prisoners' Legal Services of New York.
Within the firm, Mr. Watson has served as the summer associate program's litigation assignments coordinator, been active in various new attorney integration efforts, and presented CLE on a number of litigation topics. Before relocating to Washington, Mr. Watson practiced in the firm's New York office for several years.