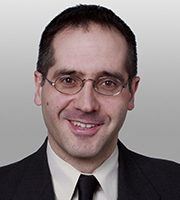 Sinan Utku is a US-qualified lawyer who is also authorized to practice in England and Wales, and who is also a US patent attorney authorized to practice before the U.S. Patent and Trademark Office. Dr. Utku is deeply involved with two separate practices at Covington: the patent practice and the Turkey Initiative.
Patent Practice
Dr. Utku focuses on international intellectual property law and patent law. His practice includes client counseling, especially in the areas of US and UK patent law; IP audits and intellectual property strategy; drafting patent opinions; challenging and defending patents in post-grant patent review procedures; patent litigation; intellectual property transactions and licensing; patent policy and legislative analysis; the drafting of original patent applications; and patent prosecution. He has had significant experience in the technology areas of pharmaceuticals, medical devices, biotechnology, telecommunications, fiber optics, cryptography, computer software, business methods, and the electrical arts generally.
Dr. Utku, in addition to his law degree, holds a Ph.D. degree in physics from Yale University. He regularly speaks at international conferences on patent issues and conducts trainings for clients on patents.
Turkey Initiative
Dr. Utku is based in both our London office and in Ankara, Turkey, where he provides on-the-ground coordination for client matters of our firm in Turkey. He has accordingly been involved in a broad variety of matters in Turkey, including internal investigations, sanctions work, corporate transactions, EU litigation and international arbitrations, in addition to matters relating to intellectual property, which is his substantive area of expertise. Sinan also provides training and speaks at conferences in Turkey in connection with intellectual property-related matters. He is a part-time instructor at Bilkent University Law School in Ankara, where he has taught courses on common law contract law, technology law and IP protection for start-up companies. Dr. Utku is a native-level speaker of Turkish.