Robert J. Trainor
Senior Of Counsel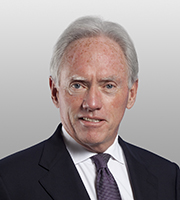 Robert Trainor advises clients on a broad range of corporate and policy matters affecting the pharmaceutical industry. He has vast experience in international transactions and litigation matters.
Prior to joining the firm, Mr. Trainor was executive vice president and general counsel of Brussels-based UCB S.A. He was also chairman of the company's Risk Management Committee. During his 8-year tenure at UCB, Mr. Trainor assisted with major growth in the company's business and its research and development efforts.
Mr. Trainor's corporate experience includes working in senior positions at Schering-Plough, including the role of vice president and associate general counsel, and he served as assistant general counsel of Johnson & Johnson. Mr. Trainor also served on the staff of the U.S. House Judiciary Committee. He served as a director at UCB Pharma S.A., UCB Japan Co., Ltd., UCB Inc., and Celltech Insurance (Ireland) Ltd. He was also a member of the Supervisory Board at Schwarz Pharma AG.