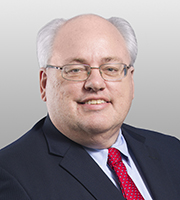 Keith A. Teel focuses on complex product liability, mass tort, and patent litigation. He is frequently involved in high-profile cases, such as mass tort and reimbursement cases concerning opioid products, cases brought by the states against tobacco companies, and the recent airbag litigation against Takata Corporation and its affiliated companies. He has litigated at every level, including arguing before the United States Supreme Court. He has served as lead counsel in multi-district litigation proceedings, and as national coordinating counsel in product liability and mass tort litigation.
While primarily focused on litigation, Mr. Teel works with companies and state and national groups as they seek improvements in liability standards and court procedures. He has drafted legislative proposals for every state and testified in support of legislation in nearly every state.
Mr. Teel also regularly provides pro bono assistance to individuals. Among other matters, he represented a veteran in a case in which the United States Supreme Court made clear that benefits determinations of the Veterans Administration may be appealed, and he succeeded in persuading the Alabama courts to overturn the conviction and death sentence of a client, who was ultimately released from death row after seventeen years. He is currently representing another Alabama inmate who has been sentenced to death.
Mr. Teel co-chairs Covington's patent litigation practice group.