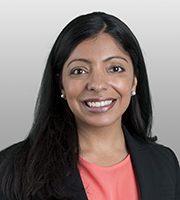 Neema Sahni is a litigation partner with deep media industry expertise. Through her work at the firm, and her prior experience in-house, Ms. Sahni has developed a sophisticated understanding of the legal issues facing clients in the sports, media, and entertainment industries. Alongside an active litigation docket, Ms. Sahni maintains a robust counseling and advisory practice, assisting sports teams and leagues, television networks, and film studios assess and mitigate their litigation risk in the context of high-stakes business transactions.
Ms. Sahni's diversified litigation experience includes participation in a full range of discovery activities; briefing and arguing preliminary and dispositive motions; and handling trial and appellate matters. She also has represented clients in state and federal court, arbitration proceedings, and agency adjudications.
In addition, Ms. Sahni has the ability to draw upon her transactional experience in-house, where she negotiated, drafted, and advised on content licensing and distribution agreements for television networks, and developed specific expertise on most favored nations compliance and digital distribution, including "over-the-top" and "TV Everywhere" distribution.