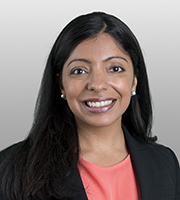 Neema Sahni is a litigation associate with deep media industry expertise. Through her work at the firm, and her prior experience in-house, Ms. Sahni has developed a sophisticated understanding of the legal issues facing clients in the sports, media and entertainment industries. Her practice offers an unusual blend of litigation capability, transactional support, and regulatory guidance.
Ms. Sahni represents clients in complex commercial disputes and copyright and trademark matters. She has particular experience litigating disputes related to content distribution and creation, with a focus on helping clients navigate changes in the content distribution ecosystem.
Ms. Sahni's diversified litigation experience includes participation in a full range of discovery activities; briefing preliminary and dispositive motions; and assisting with trial and appellate matters. She also has represented clients in state and federal court, arbitration proceedings and agency adjudications.
On the transactional side, she has experience negotiating, drafting and advising on content licensing and distribution agreements for television networks, with specific expertise on most favored nations compliance and digital distribution, including "over-the-top" and "TV Everywhere" distribution.