Our Website Uses Cookies
We and the third parties that provide content, functionality, or business services on our website may use cookies to collect information about your browsing activities in order to provide you with more relevant content and promotional materials, on and off the website, and help us understand your interests and improve the website.
For more information, please contact us or consult our Privacy Notice.
Your binder contains too many pages, the maximum is 40.
We are unable to add this page to your binder, please try again later.
This page has been added to your binder.
Daniel L. Spiegel
Senior Of Counsel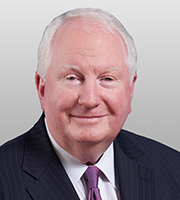 Ambassador Daniel Spiegel is vice chair of the firm's Public Policy Practice Group. He specializes in advising clients on a wide range of international policy issues related to market access, global problem solving, and crisis management. He was instrumental in the opening of the firm's Seoul office where he spent a significant amount of time and remains deeply involved in Covington's Korea practice.
Mr. Spiegel's extensive international policy experience enables him to provide domestic and foreign clients with a broad range of legal services, strategic advice, and representation in their relations with both governments and multilateral organizations such as the United Nations, IMF, and the OECD. He is a specialist in the formation of large corporate coalitions to achieve a range of policy objectives. He has also represented sovereign governments from Europe, Latin America, and the Persian Gulf on trade, investment, environmental, and foreign policy matters.
Represented a broad range of food and non-alcoholic beverage companies before a UN agency setting global health standards on obesity.
Represented a U.S. based stock exchange in its attempt to acquire a Scandinavian exchange.
Provided strategic advice to a Fortune 10 company to protect its intellectual property in key developing country markets.
Represented a South African telecommunications company settle a major dispute with Nigeria.
Represented a global vaccine manufacturer in its effort to introduce lifesaving products into innovative global programs designed to provide advanced vaccines to poor nations in Africa and Latin America.
Memberships and Affiliations
Council on Foreign Relations
United States Permanent Representative to the European Office of the United Nations, Geneva (1993-1996)
Department of State, Member, Policy Planning Staff (1979-1980)
Department of State, Special Assistant to Secretary of State Cyrus Vance (1977-1978)
U.S. Senate, Legislative Assistant for Foreign Policy to Senator Hubert H. Humphrey (1971-1976)
Legal 500 US, Government Relations (2015-2017)
Education
Georgetown University Law Center, J.D., 1979
Harvard University, John F. Kennedy School of Government, M.P.A., 1969
Washington University, B.A., 1967