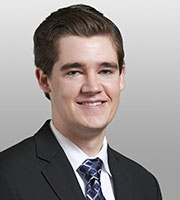 Caleb Skeath advises clients on a broad range of cybersecurity, data privacy, and litigation issues, including internal investigations, regulatory inquiries, and compliance with state and federal privacy laws.
As part of his cybersecurity and data privacy practice, Mr. Skeath specializes in assisting clients in responding to cybersecurity incidents, including subsequent internal investigations and notification obligations. He has also advised clients from the education, technology, and financial industries regarding privacy risks during the development of new products and services and represented multiple clients in responding to privacy-related inquiries from the Federal Trade Commission.
In addition, Mr. Skeath maintains an active litigation practice covering general civil litigation matters, privacy-specific litigation claims, and white collar investigations.