Our Website Uses Cookies
We and the third parties that provide content, functionality, or business services on our website may use cookies to collect information about your browsing activities in order to provide you with more relevant content and promotional materials, on and off the website, and help us understand your interests and improve the website.
For more information, please contact us or consult our Privacy Notice.
Your binder contains too many pages, the maximum is 40.
We are unable to add this page to your binder, please try again later.
This page has been added to your binder.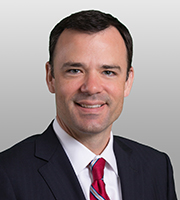 Brian Smith advises clients on challenging public policy matters that combine legal and political risks and opportunities.
Mr. Smith represents companies and individuals facing high-profile and high-risk investigations, congressional investigations, and criminal and civil investigations with political or public relations implications. He assists companies and executives responding to formal and informal inquiries from Congress and executive branch agencies for documents, information, and testimony, and he conducts internal investigations to assess legal risks. He has prepared numerous CEOs and other senior executives to appear before Congress in oversight hearings.
Mr. Smith develops and executes government relations initiatives for clients seeking actions by Congress and the executive branch. He has led strategic efforts resulting in legislation enacted by Congress and official actions and public engagement at the most senior levels of the U.S. government. He has significant experience in legislative drafting and has prepared multiple bills enacted by Congress and legislation passed in nearly every state legislature.
Prior to joining Covington, Mr. Smith served in the White House as Assistant to the Special Counsel to President Clinton. He handled matters related to the White House's response to investigations, including four independent counsel investigations, a Justice Department task force investigation, two major oversight investigations by the House of Representatives and the Senate, and several other congressional oversight investigations.
Mr. Smith is a Professorial Lecturer in Law at the George Washington University Law School.
Congressional Investigations
Representing multiple companies in recent drug prices and medical devices congressional investigations, including extensive drug pricing investigations conducted by the Senate Special Committee on Aging and the House Committee on Oversight and Government Reform, and other investigations by the Senate Permanent Subcommittee on Investigations and the Senate Committee on Health, Education, Labor, and Pensions. Prepared multiple senior executives for testimony at oversight hearings, defended numerous interviews and depositions, managed the companies' responses to staff and Committee reports, and advised on related legal and reputational risks.
Representing numerous individuals and companies involved in several recent high-profile congressional investigations, including investigations related to the Affordable Care Act, healthcare.gov, politically active nonprofit organizations, spending by the General Services Administration, and federal grant programs supported by the American Recovery and Reinvestment Act (the Stimulus).
Representing a world-leading consumer products manufacturer in a major investigation by the House Committee on Oversight and Government Reform regarding high-profile recalls of over-the-counter medicines. The investigation included multiple hearings and testimony by two senior corporate executives, including the CEO.
Representing a major financial services company in congressional investigations conducted by the House Committee on Financial Services and the House Committee on the Judiciary concerning residential foreclosures. A significant complicating factor was widespread private and state attorneys general litigation on the same subject matter.
Aviation
Representing an individual investigated for operating a drone in Washington, D.C.
Representing a manufacturer of commercial and business aircraft on U.S. government relations, trade policy, and government procurement strategies.
Representing a large international airline in a major NTSB investigation of an accident involving a wide-body aircraft resulting in multiple fatalities. Managed engagement with the NTSB, prepared company executives for public hearings, engaged directly with Board members, and managed the response to media interest in the accident and investigation.
Sovereign Governments
Representing a major U.S. ally in a legislative effort to create a professional visas category for its citizens. Developed the legislation and executed the government relations strategy that secured the inclusion of the provision in the Senate's comprehensive immigration reform legislation.
Representing a major non-NATO ally and a member of the European Union to provide advice, counsel, and support for the governments' relations with the U.S. Congress, the executive branch, and the media. Activities included handling legislative proposals related to the countries, federal appropriations for U.S. aid programs in the countries, relations with the executive branch on bilateral issues, and matters of international law.
Representing the Commonwealth of Australia in seeking an amendment to the U.S. Immigration and Nationality Act, including the enactment of an unprecedented visa category reserved exclusively for professionals from Australia.
International Trade
Representing an international manufacturer in an assessment of U.S. policy toward Cuba and the trade policy implications of a shift in U.S. policy.
Representing major U.S. companies in efforts to prompt U.S. government engagement, on a bilateral basis, with foreign governments and international organizations on behalf of clients' interests. Successfully supported high-level engagement by Ambassadors, senior government officials, and Members of Congress.
Representing companies pursuing formal Commerce Department advocacy in support of the companies' business opportunities abroad. Successfully achieved Commerce Department advocacy in multiple cases.
Representing companies seeking the U.S. government's assistance in ensuring fair regulatory treatment by foreign governments. Activities include matters before the European Union and its Member States, India, South Africa, Brazil, and multilateral development institutions.
Foreign Agents Registration Act
Representing consulting firms, think tanks, and other organizations in assessing compliance with the Foreign Agents Registration Act, including several high-profile inquiries that involved significant media attention and Department of Justice scrutiny.
Representing a family encouraging Congress to enact an annual national moment of silence in honor of veterans.

For a national organization dedicated to youth justice, prepared legislation implementing major revisions to the federal program targeted at juvenile justice and delinquency prevention.

Provided advice on legislation related to the treatment of detainees (in connection with the firm's Guantanamo Bay detainee representation).

Advised a homeless advocacy organization on amendments to the McKinney-Vento Homeless Assistance Act.

The White House, Office of the Counsel to the President (1997-1998)
U.S. Department of Labor, Special Assistant to the Secretary of Labor (1996)
U.S. Department of Labor, Special Assistant to the Assistant Secretary for Congressional and Intergovernmental Affairs (1995)
Rep. Alan Wheat (D-Mo.), Assistant Campaign Manager (1994)

Legal 500 US, Government Relations (2017)