Our Website Uses Cookies
We and the third parties that provide content, functionality, or business services on our website may use cookies to collect information about your browsing activities in order to provide you with more relevant content and promotional materials, on and off the website, and help us understand your interests and improve the website.
For more information, please contact us or consult our Privacy Notice.
Your binder contains too many pages, the maximum is 40.
We are unable to add this page to your binder, please try again later.
This page has been added to your binder.
Allison B. Schiffman
Partner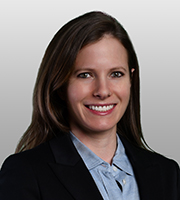 Allison Schiffman represents clients in a broad range of M&A transactions, including private equity transactions, strategic acquisitions, divestitures, carve-out transactions, minority investments, and public company acquisitions.
In addition, she has extensive experience representing financial advisors in M&A transactions. Ms. Schiffman's practice spans a variety of industries and includes representation of both U.S. and international clients.
Sorbaro family and Mavis Discount Tire, one of the largest U.S. independent tire retailers, in the sale of a significant minority interest in Mavis to ONCAP Management Partners, and representation of Mavis in numerous add-on acquisitions.
Mavis Discount Tire in its merger with Express Oil Change & Tire Engineers, a Golden Gate Capital portfolio company, to create one of the largest U.S. automotive service platforms.
ONCAP in its acquisition and subsequent sale of Tecta, the nation's premier commercial roofing contractor, and in its acquisition of AutoSource Motors, the largest U.S. branded title vehicle retailer.
Resource Capital Corp. in the sale of its Northport Capital finance business to a partnership of CVC Credit and Coller Capital.
MidFirst Bank in its acquisitions of 1st Century Bancshares, Inc. (NASDAQ: FCTY).
Pharming Group N. V. on the acquisition of all North American commercialization rights to Ruconest® from Valeant.
Rogers Corporation in its acquisition of Griswold.
MidFirst Bank in its acquisition of Steele Street Bank & Trust.
U.S. M&A counsel to Joy Global, Inc on its French-law governed acquisition of Montabert S.A.S. from Doosan Holding France S.A.S.
A medical device manufacturer in its acquisition of all assets of a smaller medical device creator.
Several U.S. based and foreign private equity funds managed by a significant private equity management group and with assets of more than $1.3 billion in aggregate, in connection with subscription credit facilities secured by their uncalled capital commitments.
Practices
Education
Cornell Law School, J.D., 2009
cum laude
ALI-ABA Scholarship and Leadership Award
The George Washington University, B.S., 2006