Steven J. Rosenbaum
Partner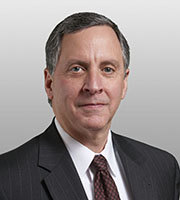 Steven Rosenbaum is one of the firm's active trial lawyers, having completed five trials and arbitrations in a nine-month period. His practice covers a wide range of complex litigation, from general commercial disputes to the defense of consumer protection actions to antitrust.
Mr. Rosenbaum has a particular expertise in Court of Federal Claims litigation against the federal government, with his clients having been awarded nearly $2.2 billion. This is believed to be a record for that court. His clients in these actions have ranged from oil companies to wind power plants to mining interests, and from health insurers to housing developers. The Federal Circuit in August 2008 affirmed the award of over $1 billion obtained for several oil companies due to the Government's breach of their offshore oil and gas leases, the single largest judgment in the Court's history.
Mr. Rosenbaum also has expertise in the representation of the energy industry in litigation involving oil and gas exploration and development. In 2012 alone, he successfully represented industry in defeating five lawsuits brought by environmental non-government organizations, challenging the approval of numerous exploration and development projects.
Mr. Rosenbaum has also represented numerous life sciences and food companies and trade associations as both plaintiffs and defendants in civil litigation. These have included such matters as Commerce Clause, Preemption and First Amendment challenges to state laws and regulations; the defense of companies sued under California's Proposition 65; and the defense of companies sued in class action lawsuits challenging their marketing or advertising practices.