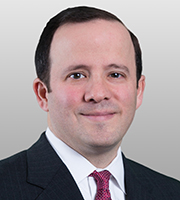 Gary Rubman is an experienced litigator who represents clients in their most important intellectual property matters, including patent and trademark infringement cases, licensing disputes and trade secret misappropriation disputes. A vice-chair of the firm's Patent Litigation Practice Group, he has experience litigating in trial and appellate courts across the country. He has represented clients in matters involving a broad array of technologies, including pharmaceuticals, medical devices, biotech, gaming, electronics and software.
Mr. Rubman's clients have included, among others, Warner-Chilcott, Aristocrat Technologies, AstraZeneca, Procter & Gamble, LifeCell, Fujitsu, Johnson & Johnson, Samsung, Ethicon, DePuy Mitek, Abbott, eBay, PayPal, Talecris Biotherapeutics, Microsoft, JPMorgan Chase, Bank of America and the Republican National Committee.
Mr. Rubman was a law clerk for Judge Samuel Alito, Jr., then serving on the United States Court of Appeals for the Third Circuit and now an Associate Justice on the United States Supreme Court. Previously, Mr. Rubman was on the legislative staff of Rep. John Boehner (R-OH).