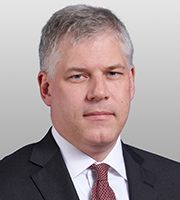 Don Ridings is a litigator whose practice focuses on international arbitration, complex civil litigation, and anti-corruption compliance.
As co-chair of the firm's Anti-Corruption Practice Group, Mr. Ridings advises clients on a range of compliance issues arising under the Foreign Corrupt Practices Act and other anti-bribery regimes. He counsels clients on proposed transactions, guides companies as they develop or strengthen their anti-corruption compliance programs and controls, develops and delivers tailored training programs, leads internal investigations, and represents clients before enforcement authorities. Over the past decade he has advised scores of companies and organizations from around the world representing nearly every major industry.
Mr. Ridings represents US and foreign clients in federal and state courts, administrative proceedings, and international arbitral tribunals. Many of his cases have arisen out of cross-border disputes involving international arbitration, litigation in US courts concerning the enforceability of foreign arbitral awards or defenses to jurisdiction, the operation of US treaties and other issues of public international law, and litigation involving a foreign sovereign government.