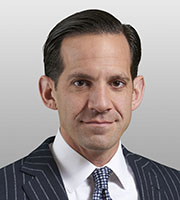 Ben Razi is a trial lawyer who represents clients in high-stakes litigation and government enforcement matters. He is co-chair of the firm's Commercial Litigation Practice Group. A savvy litigator, Mr. Razi specializes in finding -- and then exploiting -- the weak spots in his opponents' cases. He has applied this approach with great success across a range of different types of litigation, including contractual disputes, "fraud" cases, white collar defense, and torts.
Earlier this year, The AmLaw Litigation Daily named Mr. Razi the "Litigator of the Week" following a complete jury trial victory for our clients in a novel civil forfeiture case brought by the U.S. Attorney's Office for the Southern District of New York. As the legal publication Law360 noted, Mr. Razi "relishes any chance to turn the tables on overzealous" adversaries and "his tenaciousness has paid off for a slew of corporate clients and their executives since he made partner in 2008."
A key focus of Mr. Razi's practice is representing pharmaceutical companies in important commercial litigation matters. In recent years, he has successfully litigated a series of contractual disputes under collaboration and other license agreements.
Mr. Razi has tried numerous cases to verdict and regularly argues significant motions in state and federal courts across the country.