Our Website Uses Cookies
We and the third parties that provide content, functionality, or business services on our website may use cookies to collect information about your browsing activities in order to provide you with more relevant content and promotional materials, on and off the website, and help us understand your interests and improve the website.
For more information, please contact us or consult our Privacy Notice.
Your binder contains too many pages, the maximum is 40.
We are unable to add this page to your binder, please try again later.
This page has been added to your binder.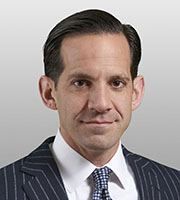 Ben Razi is a trial lawyer who represents clients in high-stakes litigation and government enforcement matters. He is co-chair of the firm's Commercial Litigation Practice Group. A savvy litigator, Mr. Razi specializes in finding -- and then exploiting -- the weak spots in his opponents' cases. He has applied this approach with great success across a range of different types of litigation, including contractual disputes, whistleblower and other "fraud" cases, white collar defense, and torts.
Mr. Razi has been named a "Trials MVP" by Law360 and a "Litigator of the Week" by the The AmLaw Litigation Daily. As Law360 has noted, Mr. Razi "relishes any chance to turn the tables on overzealous" adversaries and "his tenaciousness has paid off for a slew of corporate clients and their executives."
A key focus of Mr. Razi's practice is representing pharmaceutical companies in important commercial litigation matters. In recent years, he has successfully litigated a series of contractual disputes under collaboration and other license agreements.
Mr. Razi has tried numerous cases to verdict and regularly argues significant motions in state and federal courts across the country.
Commercial Litigation and Trials
Lead counsel for Ameris Bancorp and Ameris Bank in a series of litigation and arbitration proceedings arising from the purchase of US Premium Finance, including first-chair trial counsel in successful 5-day AAA arbitration hearing.
Won jury trial for Efans Trading Corporation and Unicorn Tire Corporation in novel civil forfeiture case brought by U.S. Attorney's Office for the Southern District of New York.
First-chair trial counsel for NFL in disability discrimination lawsuit. Jury returned complete defense verdict after deliberating for less than 2 hours.
Led representation of DARCARS in corporate control lawsuit brought by Tammy Darvish. Plaintiff sued her father, brothers, and former employer claiming that she had been promised one-third ownership and control of the company and that her brothers tortiously interfered with this alleged "contract." After developing evidence showing that Ms. Darvish's alleged "contract" was fatally vague and illusory and that her tortious interference claims were unfounded, Covington moved for and won summary judgment on all claims. Mr. Razi argued the winning summary judgment motion. See Fallahi v. Mariam, Inc., et al., No. 399008-V (Mont. Cty. Circuit Court).
First-chair trial counsel for Meda Pharmaceuticals in AAA arbitration regarding licensing agreement dispute.
Won complete defense verdict for Salix Pharmaceuticals following two-week jury trial in lawsuit brought by collaboration partner Napo Pharmaceuticals relating to Fulyzaq (crofelemer), a first-in-class gastrointestinal drug. Napo had sought over $260 million in damages and the right to terminate the parties' license agreement. As a result of Covington's efforts on summary judgment and at trial, Napo recovered nothing. See Law360 article "Salix Wins Jury Verdict In Breach Suit Over Napo Drug" (2/25/2014).
Won summary judgment and First Circuit affirmance for GSK in qui tam whistleblower retaliation lawsuit brought by Blair Hamrick. United States ex rel. Thorpe, et al. v. GSK (D. Mass. March 6, 2015) (First Circuit Feb. 17, 2016).
Won motion to dismiss for AECOM/URS in False Claims Act brought by the U.S. Attorney for the Middle District of Florida. United States v. URS Federal Services, Inc., et al., Case No. 6:15-cv-01429-GAP-DAB (M.D. Fl. Dec. 2, 2015).
Co-lead counsel in successful multi-week jury trial in Maryland state court on behalf of Plaintiff in real estate partnership lawsuit.
Won motion to dismiss for Tyco and ADT in False Claims Act suit relating to security contracts with federal judiciary. United States ex rel. Zwirn v. ADT Security Services, Inc., et al., Civil No.: 10-2639 (D. N.J. June 30, 2014).
Co-lead counsel for Plaintiff in Wone v. Price, et al., wrongful death lawsuit arising out of murder of Washington lawyer Robert Wone. Favorable settlement reached after extensive discovery in which Defendants invoked Fifth Amendment rather than attempt to refute Plaintiff's allegations.
Won summary judgment for Pfizer and Pharmacia in qui tam False Claims Act case involving alleged kickbacks to doctors and off-label promotion of human growth hormone product. United States ex. rel Rost v. Pfizer, et al., No. 03-11084-PBS (D. Mass. Sept. 14, 2010).
Won complete defense victory for GPC Biotech AG following seven day arbitration hearing in high stakes licensing dispute brought by Spectrum Pharmaceuticals, Inc.
Government Enforcement Matters/Investigations

Represented the former CEO of IndyMac Bancorp in matters arising out of the failure of IndyMac Bank, including knocking out all but one claim in SEC's once wide-ranging securities enforcement case and settling the last remaining claim, without admitting or denying liability, as a negligence-based claim for $80,000 and a commitment to comply with the securities laws; successfully resolving an FDIC lawsuit; and defending against and/or successfully resolving several securities class action lawsuits, mortgage-backed securities cases, and purported ERISA class action lawsuits.
Defense of corporate executive in DOJ auto parts price-fixing investigation.
Represented Hewlett Packard Company in an internal investigation involving the company's former CEO.
Represented Wall Street brokerage firm Jefferies & Company, Inc., in SEC and NASD investigations relating to client entertainment and gifts.
Successful defense of major chemical company in DOJ price fixing investigation.
Memberships and Affiliations
American Bar Association, Litigation Section
Benchmark Litigation, "National Practice Area Star," Commercial Litigation (2017-2021) and "Future Star" (2015-2016)
Chambers USA, Litigation: General Commercial (2019)
Recognized by The Am Law Litigation Daily as a "Litigator of the Week" (2/23/2017)
Law360, Trials MVP (2017)
Legal 500 US, Sports (2017) and Financial Services Litigation (2013)
Washington DC Super Lawyers, Business Litigation (2017-2020) and "Rising Star" (2013-2016)
Law360, Rising Star - White Collar (2013)