Our Website Uses Cookies
We and the third parties that provide content, functionality, or business services on our website may use cookies to collect information about your browsing activities in order to provide you with more relevant content and promotional materials, on and off the website, and help us understand your interests and improve the website.
For more information, please contact us or consult our Privacy Notice.
Your binder contains too many pages, the maximum is 40.
We are unable to add this page to your binder, please try again later.
This page has been added to your binder.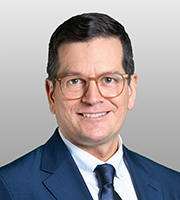 Kevin Poloncarz represents a broad range of clients on policy, regulatory, litigation, commercial, and enforcement matters involving air quality, climate change, and clean energy. He has been deeply involved in the development of regulations to reduce greenhouse gas emissions under the federal Clean Air Act and the California Global Warming Solutions Act, AB 32.
Mr. Poloncarz is recognized as a leading lawyer on California's air quality and climate change programs. He is ranked by Chambers USA among the nation's leading climate change attorneys and California's leading environmental lawyers, with sources describing him as "a phenomenal" and "tremendous lawyer." He was named an "Energy & Environmental Trailblazer" by the National Law Journal in 2017 and was inducted as a Fellow of the American College of Environmental Lawyers in 2018.
He has extensive experience with California's Cap-and-Trade Program, Low Carbon Fuel Standard (LCFS), Renewables Portfolio Standard (RPS), and similar programs in other jurisdictions, as well as in related commercial transactions.
Mr. Poloncarz has a broad base of experience in California environmental laws and has represented clients in permitting and development of major energy projects throughout the state.
Representing coalition of nine major U.S. power companies challenging U.S. EPA's Affordable Clean Energy (ACE) Rule in the U.S. Court of Appeals for the District of Columbia Circuit (D.C. Circuit) (No. 19-1188).
Representing four major electric utilities challenging the U.S. EPA's determination that its greenhouse gas emissions standards for cars and trucks are not appropriate and should be revised to be less stringent in litigation in the D.C. Circuit (No. 18-1162).
Represented coalition of nine major U.S. power companies as intervenors in support of the U.S. EPA in litigation in the D.C. Circuit challenging EPA's Clean Power Plan (No. 15-1363) and related carbon pollution standards for new, modified, and reconstructed electric generating units (No. 15-1381).
Represented energy company in litigation in the U.S. Court of Appeals for the D.C. Circuit challenging U.S. EPA's proposed Clean Power Plan as amicus curiae in support of respondent EPA (In re Murray Energy Corp., 788 F.3d 330 (D.C. Cir. 2015).
Represented coalition of five major utilities as proposed amici curiae seeking to defend a source of revenue for electric vehicle incentives and charging infrastructure provided by the California Air Resources Board's (CARB) Low Carbon Fuel Standard in a challenge brought by ethanol producers.
Represented developer of 620-MW combined cycle power plant in obtaining the first federal Prevention of Significant Deterioration (PSD) permit to limit emissions of GHGs and in successfully defending associated appeals to the EPA's Environmental Appeals Board and U.S. Court of Appeals for the Ninth Circuit.
Advised and represented investment banks and funds on transactions involving California Carbon Allowances and Renewable Energy Credits (RECs).
Represented geothermal power producer on California renewables procurement legislation.
Represented long-duration storage developer in California legislative and policy matters.
Representing producer of low-global warming potential replacements for hydrofluorocarbons (HFCs) with respect to several states' enactment of legislation or rules to phase-out HFCs.
Represented purchasers of ARB Offset Credits in dozens of transactions.
Represented major conservation organization in securing role for natural and working lands in California's climate programs.
Represented clients in energy and refining sectors in enforcement actions concerning compliance with rules promulgated by CARB pursuant to AB 32.
Represented power producer with respect to Oregon's development of cap and invest program linked with California market.
Advised developer of mine methane abatement project in West Virginia.
Represented petroleum refiner in resolution of hundreds of Notices of Violation issued by CARB and local air districts concerning air quality requirements.
Represented developer of geothermal power plants in obtaining PSD permits and assessing GHG impacts under California Environmental Quality Act (CEQA).
Represented power producers in several states in negotiating terms of power purchase and steam sales agreements concerning compliance with emissions standards.
Represented investment bank in negotiations with upstream and downstream counterparties for purchase and sale of renewable power and associated renewable energy credits (RECs).
Memberships and Affiliations
Director, Environmental Law Institute, Board of Directors
Advisory Board, Center for Applied Environmental Law and Policy
Articles Editor, Energy Law Journal, Energy Bar Association
Fellow, American College of Environmental Lawyers
Chambers USA, Climate Change (2016-2019) and Environment (2013-2019)
National Law Journal, "Energy & Environmental Trailblazer" (2017)
Who's Who Legal, Environment (2011-2018) and Climate Change (2016-2018)
The Best Lawyers in America, Environmental Law (2011-2018)
Law360, Environmental Law "Rising Star" (2013)
Practices
Education
The University of Chicago Law School, J.D., 1998
Hobart College, B.A., 1995