Our Website Uses Cookies
We and the third parties that provide content, functionality, or business services on our website may use cookies to collect information about your browsing activities in order to provide you with more relevant content and promotional materials, on and off the website, and help us understand your interests and improve the website.
For more information, please contact us or consult our Privacy Notice.
Your binder contains too many pages, the maximum is 40.
We are unable to add this page to your binder, please try again later.
This page has been added to your binder.
Julia F. Post
Special Counsel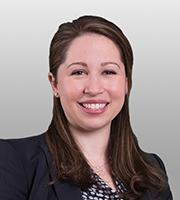 Julia Post advises biotechnology, pharmaceutical, medical device, and trade association clients on a variety of federal and state regulatory and compliance matters. In particular, Ms. Post has experience in areas including biosimilars and interpretation and implementation of the Biologics Price Competition and Innovation Act of 2009; human cells, tissues, and cellular and tissue-based products (HCT/Ps); market exclusivity; informed consent requirements; and pharmacy substitution practices.
Prior to joining the Food and Drug practice group, Ms. Post was a member of the Litigation practice group where she focused on representing clients in Hatch-Waxman patent litigation.
Represent biotechnology innovators regarding the BPCIA and FDA implementation of the biosimilars pathway, including preparation of comments on FDA draft guidance and citizen petitions.
Develop citizen petitions for innovative companies regarding bioequivalence and other testing standards for generic drugs and related labeling requirements.
Advise biotechnology clients on approval pathways and regulatory considerations for innovative HCT/Ps.
Advise clients regarding regulatory and legislative developments for biologics and drugs.
Advise pharmaceutical and biotechnology companies regarding state laws and regulations governing generic drug and biosimilar substitution.
Represented a major pharmaceutical company in Hatch-Waxman litigation against generic drug manufacturers concerning oral formulations used to treat ulcerative colitis.
Represented a pharmaceutical company in an ANDA case concerning a topical formulation used to treat actinic keratosis.
Serving as guardian ad litem in a child custody dispute in D.C. Superior Court.
Booz Allen Hamilton, Consultant (2006-2007)
The Johns Hopkins Berman Institute of Bioethics, Research Assistant (2005-2006)
Education
University of Michigan Law School, J.D., 2010
cum laude
University of Michigan Journal of Law Reform, Managing Notes Editor
Johns Hopkins University, B.A., 2005
Judicial Clerkship
Hon. Donald M. Middlebrooks, U.S. District Court, Southern District of Florida, 2010 - 2011