Our Website Uses Cookies
We and the third parties that provide content, functionality, or business services on our website may use cookies to collect information about your browsing activities in order to provide you with more relevant content and promotional materials, on and off the website, and help us understand your interests and improve the website.
For more information, please contact us or consult our Privacy Notice.
Your binder contains too many pages, the maximum is 40.
We are unable to add this page to your binder, please try again later.
This page has been added to your binder.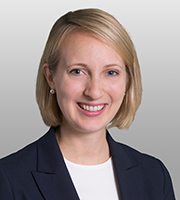 Ingrid Price is an associate in the firm's Washington, DC office. She advises clients on a range of national security and public policy matters and also practices with the firm's litigation group.
Ms. Price represents clients worldwide seeking national security approval for foreign investments before the Committee on Foreign Investment in the United States (CFIUS) and advises clients seeking to mitigate foreign ownership, control, or influence (FOCI) under national industrial security regulations. As a litigator Ms. Price has successfully represented financial institutions defending against consumer protections claims.
Before joining the firm, Ms. Price clerked for Chief Judge James E. Baker of the U.S. Court of Appeals for the Armed Forces. She also previously worked as an associate with another Washington, DC firm where her practice focused on litigation and regulatory matters.
National Public Radio, Intern for Nina Totenberg (2012)
International Law and Policy Institute, Law Clerk (2011)