Our Website Uses Cookies
We and the third parties that provide content, functionality, or business services on our website may use cookies to collect information about your browsing activities in order to provide you with more relevant content and promotional materials, on and off the website, and help us understand your interests and improve the website.
For more information, please contact us or consult our Privacy Notice.
Your binder contains too many pages, the maximum is 40.
We are unable to add this page to your binder, please try again later.
This page has been added to your binder.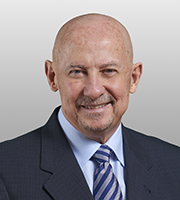 Before joining Covington as head of its energy practice, William Massey served as a Commissioner at the Federal Energy Regulatory Commission (FERC) for over ten years.
Working out of Covington's Washington, DC office, Mr. Massey has a high profile, broad-based energy regulatory and government affairs practice. He has extensive experience with complex regulatory issues before FERC and state utility commissions, and with energy legislative matters before Congress and state general assemblies.
Mr. Massey advises clients on mergers and acquisitions, enforcement and investigations, electricity and natural gas markets, energy exports, wholesale and retail market structure, transmission and pipeline infrastructure investment, RTO tariffs, and legislative strategy at the federal and state levels.
Mr. Massey's clients include investment firms and banks, utilities, independent power producers, pipelines and shippers, oil and gas companies, project developers, gas and electricity marketers, customers, and energy companies on a wide variety of energy matters. He also serves as outside counsel to a large and diverse coalition of energy companies, demand response providers and customers that support well-structured energy markets.
Mr. Massey has been recognized by Chambers and Chambers Global, Best Lawyers in America, Legal 500 US for Energy, and as a Washington, DC Super Lawyer.
Drawing on over 30 years as a Washington insider and counselor, including almost a decade as Chief Counsel to a prominent U.S. Senator, Mr. Massey understands the intersection of policy, legislation and regulation. He offers a highly effective combination of strategic, legal and policy skills to his clients.
COMPETE Coalition, a 720 member organization whose members include Exelon, PPL Energy, Calpine, Wal-Mart, Safeway, PSEG and Texas Energy, on a wide range of FERC and state regulatory matters involving capacity markets, wholesale and retail market structure, demand response policy, electricity rates, RTO markets and transparency issues.
A large bank in an ongoing non-public and wide ranging investigation by the FERC Office of Enforcement alleging manipulative bidding of electric generation into certain RTO markets.
Pepco Holdings, Inc. on the negotiation and sale of its 3800 MW Conectiv Energy wholesale power generation business to Calpine Corporation, including securing the necessary FERC approval under the Federal Power Act.
Texas Energy Future Holdings in an audit by FERC Enforcement's Audit Division regarding compliance with the terms of FERC's order approving the nation's largest leveraged buy-out (the acquisition of Texas Utilities Corp.).
Foreign investment fund in successfully obtaining orders from FERC and the New York PSC approving its acquisition of a 15% interest in AES Corporation.
A large oil and gas producer with respect to the FERC and DOE policies, procedures and approval requirements for the export of natural gas to non-FTA countries.
Public Service Enterprise Group (PSEG), a New Jersey electric and gas utility, with respect to a range of FERC matters including financial incentives and favorable regulatory treatments for large transmission projects, cost allocation policy for certain transmission investments, and market based rates for a new generation project.
A prominent retail electricity provider regarding retail market structures in a dozen states, including providing analyses of best regulatory practices in structuring retail markets.
Major energy trade association with respect to advice on the CFTC's proposed rule on market manipulation and the CFTC's Advanced Notice of Proposed Rulemaking on disruptive trade practices.
Energy Future Holdings (the successor to Texas Utilities Corp.) on a range of FERC public utility matters.
Oncor Electric Delivery (a subsidiary of Energy Future Holdings) in the sale of a 20% interest in Oncor to Borealis and GICSI.
San Diego Gas and Electric (SDG&E) on a range of FERC matters including the allocation of so-called Congestion Revenue Rights by CAISO, and certain interconnection and cost allocation matters.
Comverge, Inc. a demand response provider and technology company, in FERC matters on regulations pertaining to demand response, including measurement and verification issues, and, in particular, proceedings involving demand response in the PJM Interconnection.
Along with Comverge, we represented Wal-Mart and Leggett & Platt, large commercial and industrial electricity consumers, before FERC in a matter involving the formation of a capacity market in the Midwest Independent Transmission System Operator (MISO).
KKR and Texas Pacific Group in securing the necessary FERC and NRC approvals for their acquisition of TXU Corp. for $45 billion, the largest leveraged buyout in history. We also provided counsel on energy regulatory, climate change, government affairs, and public policy matters.
Energy Transfer Partners and Oasis Pipeline in investigations by FERC and CFTC regarding alleged market manipulation and undue discrimination, and in resulting litigation and settlements at FERC.
A demand response provider in a non-public FERC investigation alleging fraud and manipulation in providing demand response services in the organized electricity markets during 2010.
A virtual electricity trader in an on-going non-public FERC investigation of fraud and manipulation with respect to trading virtual electricity products and congestion revenue rights in the California ISO markets during 2011.
Electric and natural gas utility in a wide-ranging and ongoing FERC enforcement audit of its market activities, including compliance with the market based rate authority provided to its multiple affiliates, compliance with FERC's electronic quarterly report requirements, and compliance with rules regarding uplift or make-whole payments.
Foreign investment fund in an ongoing FERC audit reviewing compliance with the FERC order approving its acquisition of a controlling interest in a US vertically integrated utility and examining its US energy holdings.
Numerous financial investors, both domestic and foreign, seeking advice on FERC and state rules and approvals required for the acquisitions of interests in energy facilities in various states, including in many cases the acquisitions of wind and solar facilities.
Southern Montana Electric Generation and Transmission Cooperative in a significant transmission and generation interconnection dispute with NorthWestern Energy.
Arkansas Electric Cooperative Corporation in a range of transmission, generation and dispatch disputes with Entergy.
Memberships and Affiliations
Georgetown University Law Center, Adjunct Professor of Law

Energy Bar Association

District of Columbia Bar Association
Federal Energy Regulatory Commission (FERC), Commissioner (1993-2003)
U.S. Senator Dale Bumpers (D-Ark), Chief Counsel and Legislative Director (1980-1989)
Chambers, Energy/Electricity (2008-2018)
Chambers, Energy/Oil & Gas (2009-2018)
Chambers Global, Energy - Electricity: Regulatory & Litigation (US) (2012-2018)
Best Lawyers in America, Energy (2007-2018)
Washington DC Super Lawyers, Energy & Natural Resources (2009-2011, 2013-2018)
Recognized by the Legal 500 US for Energy: Regulatory (2012-2017) and Litigation (2012-2014)