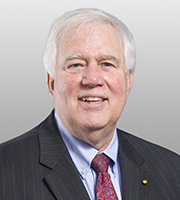 Dr. Richard A. Meserve, who served as Chairman of the United States Nuclear Regulatory Commission (NRC) from 1999 to 2003 following many years as a partner at Covington & Burling, is currently senior of counsel to the firm. Dr. Meserve is based in Covington's Washington office. With a Ph.D. in applied physics, Dr. Meserve has long concentrated his practice on issues at the intersections of law, regulation, science, and technology.
In addition to his firm responsibilities, Dr. Meserve serves as President Emeritus of the Carnegie Institution for Science, a non-profit entity that undertakes fundamental research on the frontiers of biology, earth sciences, and astronomy. He assumed the presidency in April 2003, having been a member of Carnegie's board of trustees since 1992.
Dr. Meserve served as Chairman of the NRC under Presidents Clinton and Bush. During his tenure from 1999 to 2003, he was the principal government official with responsibility for regulating nuclear power plants and the use of nuclear materials. In this role, he helped NRC and its licensees respond effectively to terrorist challenges; facilitated the continued production of safe nuclear power; prepared for the next generation of nuclear reactors; and made significant progress in establishing risk-informed regulation through the successful implementation of the reactor oversight process and through various regulatory changes.
Dr. Meserve is currently chairman of the International Nuclear Safety Group chartered by the International Atomic Energy Agency and of the Nuclear and Radiation Studies Board of the National Academies of Sciences and Engineering. He has served on numerous legal and scientific committees over the years, including many chartered by the National Academies. Among other affiliations, he is a member of the American Philosophical Society and the National Academy of Engineering, and he is a fellow of the American Academy of Arts and Sciences, the American Association for the Advancement of Science, and the American Physical Society. Dr. Meserve serves on the board of directors of PG&E Corporation, is a member of an independent advisory board to UniStar Nuclear Energy, LLC, and is an Overseer of Harvard University.
Prior to joining Covington & Burling in 1981, Dr. Meserve served as legal counsel to President Carter's science and technology advisor.