Paul Mertenskötter
Associate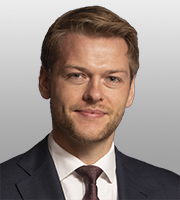 Paul Mertenskötter is an associate in the firm's Brussels office and a member of the Public Policy and International Trade practice groups. He advises multinational companies, governments, and other clients on a range of matters related to public policy, international trade, and new technologies. Mr. Mertenskötter's practice encompasses advising clients on the European Commission's Digital Single Market strategy, including on the Payment Services Directive (PSD 2).
Prior to joining the firm, Mr. Mertenskötter clerked at the International Court of Justice in The Hague, and was a Fellow at the Institute for International Law and Justice at NYU Law School. His work has been published with Oxford University Press and the Cornell Law Review.
Mr. Mertenskötter received his J.D., cum laude, from New York University School of Law, where he was a Guarini Government Service Scholar, Robert McKay Scholar, and the recipient of the Jerome Lipper Prize for outstanding work in international law. Prior to law school, Mr. Mertenskötter briefly worked in management consulting at McKinsey & Company and at a German think tank in Berlin. He received his B.A., with first class honors and distinction, from the University of York, UK, where he was awarded the PPE Finals Prize.