Our Website Uses Cookies
We and the third parties that provide content, functionality, or business services on our website may use cookies to collect information about your browsing activities in order to provide you with more relevant content and promotional materials, on and off the website, and help us understand your interests and improve the website.
For more information, please contact us or consult our Privacy Notice.
Your binder contains too many pages, the maximum is 40.
We are unable to add this page to your binder, please try again later.
This page has been added to your binder.
Alfred H. Moses
Senior Counsel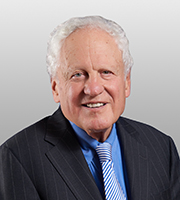 Alfred Moses, a long-time partner, is now senior counsel to the firm practicing in the areas of litigation, corporate and securities matters, and arbitration. During his career, he has represented clients in important litigation as trial and appellant counsel and has structured major corporate, financial and real estate transactions in this country and abroad.
Represented major Mexican investment family in business dispute involving public company;

Party-appointed arbitrator in major domestic real estate dispute; and,

Court-appointed mediator in international bank litigation.
The American Jewish Committee, New York, NY, Honorary President

UN Watch, Geneva, Switzerland, Chair

International Council of Beit Hatfutsot, Tel Aviv, Chair

International Board of Trustees, The Institute for National Security Studies, Tel Aviv, Chair

Truman Institute, Jerusalem, Trustee

International Board of Atidim, Member

Diplomatic Council on Energy Security (SAFE), Member

Memberships and Affiliations
Promontory Financial Group LLC, Washington, DC, Co-founder, Vice Chair, Chief Operating Officer (2004-2014)
The American Jewish Committee, Centennial Committee Chair (2004-present)
UN Watch, Geneva, Switzerland, Chair (2004-present)

The American Jewish Committee, Centennial Committee Chair (2004-present)

UN Watch, Geneva, Switzerland, Chair (2004-present)

Hebrew College, West Newton, MA, National Board, Chair (2002-present)

The American Jewish Committee, National Advisory Council Chair (1997-present)

The American Jewish Committee, New York, NY, National President (1991-1994)

Jewish Publication Society, New York, NY, Trustee (1989-1994)

Golda Meir Association, National Chair (1988-1993)

Haifa University, Trustee (1988-1990)

Georgetown University, Washington, DC, Board of Regents, Member (1986-1992)

Phelps Stokes Fund, New York, NY, Trustee (1978-1984)

Paralysis Cure Research Foundation, Board of Directors (1978-1981)

Council on Foreign Relations, Member (1977-present)

National Children's Island, Washington, DC, President (1975-1976)

United Givers Fund, Washington, DC, Legal Division Co-Chairman (1975-1976)

Public Housing, Fairfax, VA, Commissioner (1971-1972)

The American Jewish Committee, Washington Chapter President (1967-1969)

Hospitality House, Washington, DC, President (1966-1968)
Special Presidential Emissary for the Cyprus Conflict, 1999-2001;

U.S. Ambassador to Romania, 1994-1997; and,

The White House, Special Advisor and Special Counsel to President Jimmy Carter, serving as lead counsel to the President in the "Billygate" hearings in the U.S. Senate (1980-1981)
Marc Cruce

Medal awarded by the President of Romania (2002)

Yeshiva University, Legum Doctoris, Honoris Causa (2010)

Georgetown University, Doctor of Humane Letters (2013)

Who's Who in the World (1994-2015)
Who's Who in America (1987-2015)
Who's Who in the East (1994-2015)
Who's Who in American Law (1989-2015)
Education
Georgetown University Law Center, J.D., 1956
Princeton University, Public and International Affairs, 1952
Dartmouth College, B.A., 1951