Our Website Uses Cookies
We and the third parties that provide content, functionality, or business services on our website may use cookies to collect information about your browsing activities in order to provide you with more relevant content and promotional materials, on and off the website, and help us understand your interests and improve the website.
For more information, please contact us or consult our Privacy Notice.
Your binder contains too many pages, the maximum is 40.
We are unable to add this page to your binder, please try again later.
This page has been added to your binder.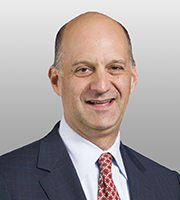 Michael Labson provides strategic advice to pharmaceutical and biotechnology clients in dealing with the FDA and other agencies. He has litigated a variety of cases in the life sciences area, and works actively on corporate transactions and government investigations.
Mr. Labson's recent work has involved issues such as clinical trial misconduct; FDA dispute resolution; orphan drug, pediatric and Hatch-Waxman market exclusivities; biosimilars; product promotion and scientific exchange; REMS; pharmacovigilance; Rx/OTC switches; and DEA regulation of controlled substances. Drawing on his 20+ years of experience working for the biopharmaceutical sector on a wide array of issues, he provides clients creative and practical solutions to solve their regulatory challenges.
Mr. Labson is a member of the firm's Management Committee, and previously was one of the firm's Hiring Partners and co-chair of the Diversity Committee. He is also actively involved in pro bono work.
FDA Avastin® Hearing. Lead counsel for Genentech in landmark hearing on FDA's withdrawal of the metastatic breast cancer indication for Avastin® (bevacizumab).

FDAMA 114/Healthcare Economic Information Policy. Developed compliance policy on the communication of healthcare economic information and conducted company-wide training for Global 500 pharmaceutical company.

FTC Citizen Petition Inquiry. Regulatory counsel to international biopharmaceutical company in novel FTC investigation related to generic drug bioequivalence standards.

MiraLAX® Rx-OTC Switch NOOH. Represented Merck and Bayer on FDA Notice of Opportunity for Hearing proposing the withdrawal of misbranded Rx generic versions of MiraLAX® following the successful OTC switch of the product.

Internal Compliance Investigation. Led internal investigation into complaints of improper conduct in the preparation of pivotal trial clinical study report and peer-reviewed publication for multinational pharmaceutical company.
DEA Exempt Chemical Preparation Appeal. Leading appeal of DEA denial of exemption application for novel in vitro diagnostic assay.
Orphan Exclusivity Appeal. Successfully advised emerging biopharmaceutical company on obtaining orphan drug exclusivity following initial FDA denials of designation
Regulatory Due Diligence. Led regulatory diligence for $250M acquisition of late-stage oncology company and $600M acquisition of cancer immunology firm.
Morris v. Brandenberg (N.M. Court of App.) (Amici Curiae brief for medical and public health groups in support of right to aid in dying).
Illinois v. Davis (Ill. Sup. Ct.) (Amici curiae brief for faith-based groups in challenge to life sentences without parole for youth offenders).
In the Matter of Kamouane, Mahamat (Immigration Court asylum hearing).
Mississippi v. Cory J. Maye (Mississippi capital case).
State v. Rogers (Florida capital case).
K.S. parole hearing.
Memberships and Affiliations
Adjunct Professor of Law at the American University Washington College of Law

Children's Dental Health Project, Vice Chair, Board of Directors

American Bar Association

Food and Drug Law Institute
PriceWaterhouse Strategic Consulting Group,

Staff Consultant (

1989-1991)
Fellow of the American Bar Association
The Best Lawyers in America (2010-2018)
Chambers USA - America's Leading Business Lawyers (2008-2018) ("very well connected with what is going on with the FDA" and "very available, approachable and he grasps what it is that you are dealing with rapidly")
Washington DC Super Lawyers, FDA (2012-2018)
LMG Life Sciences, Attorney of the Year - Regulatory (2016); "Life Science Star" (Regulatory) (2012-2017)
Who's Who Legal, Life Sciences (2015-2018)
Washingtonian, Food & Drug "Top Lawyer" (2013)
PLC Life Sciences, Which Lawyer? Highly Recommended for Regulatory (formerly FDA) - "He is one of the best known FDA practitioners from the younger generation of regulatory lawyers. Can advise on the whole spectrum of regulatory issues for both pharmaceutical and biotech clients" (2003-2012).