Our Website Uses Cookies
We and the third parties that provide content, functionality, or business services on our website may use cookies to collect information about your browsing activities in order to provide you with more relevant content and promotional materials, on and off the website, and help us understand your interests and improve the website.
For more information, please contact us or consult our Privacy Notice.
Your binder contains too many pages, the maximum is 40.
We are unable to add this page to your binder, please try again later.
This page has been added to your binder.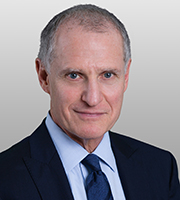 Frederic Levy, co-chair of the Government Contracts Practice Group, is one of the nation's leading suspension and debarment lawyers, focusing his practice on the resolution of complex compliance and ethics issues. He has successfully represented numerous high-profile corporations and individuals under investigation by the government in civil and criminal matters, including False Claims Act cases, and in suspension and debarment proceedings to ensure their continued eligibility to participate in federal programs.
He has also conducted numerous internal investigations on behalf of corporate clients, particularly in the areas of program fraud and export controls, and often involving sensitive personnel or fiduciary matters. He has also advised corporations in voluntary or mandatory disclosures to a variety of federal agencies. Mr. Levy regularly counsels clients on government contract performance issues, claims and terminations, and he litigates such matters before the boards of contract appeals and in the Federal Circuit.
Related to his work involving program fraud, Mr. Levy counsels clients in the area of contractor "responsibility." He is involved in the development and implementation of contractor ethics and compliance programs which meet the standards of the Federal Acquisition Regulation, Federal Sentencing Guidelines, and Sarbanes-Oxley, and he regularly conducts ethics and compliance training.
Mr. Levy is a principal editor of Guide to the Mandatory Disclosure Rule and a contributing author and editor of the Practitioner's Guide to Suspension and Debarment and of Healthcare Exclusions: A Comprehensive Guide.
Memberships and Affiliations
American Bar Association Public Contract Law Section, Co-Chair, Debarment and Suspension Committee
American Bar Association Public Contract Law Section, Co-Chair, Procurement Fraud Committee
ABA Task Force on Implementation of the Contractor Code of Business Ethics and Conduct and Mandatory Disclosure Rule, Co-Chair
ABA Task Force on Attorney Client Privilege, Liaison
ABA Task Force on Criminal Justice Monitors Standards, Liaison
The District of Columbia Bar
Washington Lawyers Committee of the United States Holocaust Memorial Museum, Member
George Washington University, Adjunct Professor of Law
Chambers USA, Government Contracts (2014-2018)
Legal 500 US, Government Contracts (2016-2017)
Washington DC Super Lawyers, Government Contracts (2013-2018)