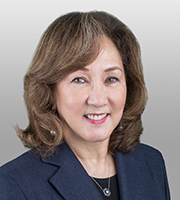 As a leading litigator and one of The Daily Journal's "Top Women Lawyers" in California, Carolyn Kubota has handled more than 20 jury and bench trials in state and federal courts. In her practice, Ms. Kubota is focused on civil and criminal trials, white collar criminal defense, and high stakes business litigation, with particular emphasis on the pharmaceutical industry.
Ms. Kubota has a depth of experience representing and advising domestic and international companies in investigatory matters ranging from internal investigations to Attorney General and government-led investigations relating to consumer fraud, the FCPA, the Anti-Kickback Statute, false public reporting, and other alleged wrongdoing.
Ms. Kubota served for 12 years as an Assistant U.S. Attorney in the Los Angeles U.S. Attorney's Office. There, she successfully tried complex criminal trials and served as Deputy Chief of the Major Frauds Section, supervising the investigation and prosecution of financial fraud cases.