Our Website Uses Cookies
We and the third parties that provide content, functionality, or business services on our website may use cookies to collect information about your browsing activities in order to provide you with more relevant content and promotional materials, on and off the website, and help us understand your interests and improve the website.
For more information, please contact us or consult our Privacy Notice.
Your binder contains too many pages, the maximum is 40.
We are unable to add this page to your binder, please try again later.
This page has been added to your binder.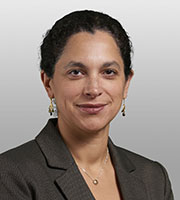 Jennifer Johnson, co-chair of Covington's Internet of Things (IoT) group, represents and advises content distributors, broadcast companies, trade associations, and other media and technology entities on a wide range of issues. Ms. Johnson has more than two decades of experience advising clients in the communications, media and technology sectors, and has served as a co-chair for these practices for more than 15 years. On IoT issues, she collaborates with Covington's global, multi-disciplinary team to assist companies navigating the complex legal and regulatory constructs surrounding this evolving area.
Her practice includes:
regulatory compliance and policy advocacy;
media and technology joint ventures, mergers and acquisitions;
content carriage agreements with cable, satellite, telco and digital distribution companies;
network affiliation and other programming agreements for broadcasters and other media entities; and
other strategic, regulatory and transactional matters impacting media and technology companies.
Ms. Johnson assists clients in developing and pursuing strategic business and policy objectives before the Federal Communications Commission and Congress and through transactions and other business arrangements. Ms. Johnson also assists investment clients in structuring, evaluating, and pursuing potential investments in media and technology companies.
Representing clients in the acquisition and sale of broadcast properties, such as Raycom Media's $3.6 billion sale to Gray Television, TEGNA Inc.'s $2.2 billion acquisition of Belo Corp., and Bonten Media's $240 million sale to Sinclair.
Representing television industry associations on key legislative, FCC and industry issues, including spectrum allocation, media ownership, retransmission consent, and other issues impacting the integrity of the television broadcast service and spectrum.
Advising on and negotiating affiliation agreements with all of the major television networks and a number of emerging or niche networks, including ABC, CBS, NBC, Fox, the CW, Spanish-language networks, and diginets.
Representing television stations and other content providers in negotiating carriage agreements for traditional and digital distribution, including agreements with major cable, satellite, telco and OTT distributors.
Advising media and technology companies on legal developments pertaining to the Internet of Things.
Tougaloo College
Tahirih Justice Center
Public Interest Law Institute
Memberships and Affiliations
District of Columbia Bar Association
Federal Communications Bar Association
ABA's Forum on Communications Law, Division Chair (2005-2008)
The Best Lawyers in America, "Lawyer of the Year" - Washington DC Administrative/Regulatory Law (2014)
The Best Lawyers in America, Administrative/Regulatory Law (2010-2019); Communications Law (2014-2019)
Chambers USA, Telecom, Broadcast & Satellite (2007-2019) and Media & Entertainment (2016-2018)
Legal 500 US, Telecoms and Broadcast (2008-2017)
Washington DC Super Lawyers, "Top 50 Women in Law" (2015); Media & Advertising (2009-2011, 2013-2019); Communications (2014-2019)
Who's Who Legal, Data: Telecoms & Media (2017-2019)
Law360, Media & Entertainment Group of the Year (2012, 2014)