Our Website Uses Cookies
We and the third parties that provide content, functionality, or business services on our website may use cookies to collect information about your browsing activities in order to provide you with more relevant content and promotional materials, on and off the website, and help us understand your interests and improve the website.
For more information, please contact us or consult our Privacy Notice.
Your binder contains too many pages, the maximum is 40.
We are unable to add this page to your binder, please try again later.
This page has been added to your binder.
Timothy C. Hester
Partner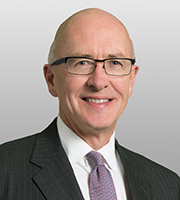 As Chair of the Management Committee, Timothy Hester is responsible for the overall direction of Covington's strategy and operations. He has served as Chair since 2008 and as a member of the Management Committee since 1998. During his time as Chair, the firm has more than doubled in size and has expanded from five to thirteen offices.
In addition to his leadership and management roles, Mr. Hester has continued an active antitrust counseling practice that focuses on patent litigation settlements and other matters at the intersection of antitrust and patent law. Beyond his counseling practice, over the last decade he has been involved in a series of antitrust suits raising claims of unlawful patent settlements, sham litigation, and wrongful patent acquisitions.
He has been involved in a series of civil and criminal antitrust matters involving conspiracy claims and monopolization theories across a range of industries and products over roughly 30 years.
Mr. Hester has also represented clients in merger reviews and investigatory matters before both the Justice Department and FTC and has also handled litigation and merger matters before regulatory agencies, including the Surface Transportation Board, the Department of Transportation, and the Copyright Office.
AstraZeneca in In re Nexium Antitrust Litigation.
Purdue Pharma in In re OxyContin Antitrust Litigation.
GlaxoSmithKline in In re Relafen Antitrust Litigation.
Samsung in a challenge to industry standards-setting.
Defense of antitrust claims against Procter & Gamble challenging the settlement of patent litigation.
Defense of antitrust claims against the National Football League related to satellite television programming.
Represented Exxon before the FTC in the Exxon-Mobil merger.
Mr. Hester has been involved for over 30 years in pro bono death penalty litigation, including cases in Alabama, Florida, Mississippi, and Virginia.
Best Lawyers in America, Antitrust Law (2016-2019)
Washington DC Super Lawyers, Antitrust Litigation (2013-2018)
LMG Life Sciences, "Life Science Star" (2013-2018)
Legal 500 US, Healthcare - Life Sciences (2016)
Education
University of Michigan Law School, J.D., 1982
cum laude

Order of the Coif
Williams College, B.A., 1977
magna cum laude

with highest honors in Economics
Judicial Clerkship
Hon. J. Dickson Phillips, Jr., U.S. Court of Appeals, Fourth Circuit, 1982 - 1983