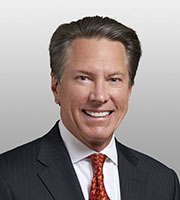 John Hall is chair of the firm's global Litigation Practice and past chair of the firm's Trials Group.
He has a wide-ranging civil trial practice involving complex commercial disputes, insurance coverage, class actions, business torts, and unfair competition. A former Assistant United States Attorney, he also represents individuals and companies in white collar criminal defense and investigations. He has particular experience in high-stakes litigation matters with attendant public relations risks.
For a number of years, Benchmark Litigation, which identifies the leading U.S. trial attorneys at the local and national levels, has named him a "national star" in commercial litigation.
He has represented a number of prominent corporations. His professional experience includes the following:
Lead counsel for Chiquita Brands International, Inc. in numerous interrelated litigation matters arising out of extortion payments made by Chiquita's former subsidiary to Colombian armed groups, including mass tort claims, insurance coverage disputes, shareholder derivative suits, and government investigations.
Representation of the National Football League in insurance coverage litigation relating to lawsuits filed by former NFL players seeking to hold the League liable for injuries associated with the long-term effects of concussions.
Lead trial counsel for Samsung Electronics Company in multi-district class action litigation involving an alleged global price fixing conspiracy for liquid crystal display screens.
Representation of Hewlett-Packard Company in tort claims arising from the Washington Navy Yard shooting incident in September 2013.
Lead trial counsel for NCR Corporation in an insurance coverage suit seeking indemnification for the company's share of the projected $800 million cleanup of the Lower Fox River in Wisconsin.
Representation of ARAMARK Corporation, one of the world's largest providers of managed services, in a multi-year U.S. Department of Justice investigation.
Lead trial counsel for flooring manufacturer Congoleum Corporation in insurance coverage litigation involving more than 100,000 asbestos personal injury claims.
Defense of many of the nation's leading universities and teaching hospitals, including Stanford, Tulane, Emory, and Washington University, in multi-party class action antitrust litigation.
Representation of Thermo Fisher Scientific in class action claims under the Alien Tort Statute.
Lead counsel for Warner Chilcott pharmaceutical company in state consumer fraud claims and class action litigation.
Defense of The Procter & Gamble Company in consumer fraud class actions.
Representation of General Electric Company in a multi-million dollar commercial dispute.
Representation of Northrop Grumman Corporation in a breach of contract and fraud action.
He maintains an active pro bono practice. Among other projects, he spearheaded the firm's litigation and advocacy work that led to the repeal of Virginia's mandatory caps on payments to appointed counsel for indigent defendants. Virginia's extremely low, nonwaivable caps had been criticized for years by national legal organizations and in the media as undermining the constitutional right of all persons to meaningful and effective representation in criminal cases. In 2004, he was selected as the firm's Charles F.C. Ruff Pro Bono Lawyer of the Year.
He lectures in trial practice at the University of Virginia Law School and is a frequent speaker on the art of oral advocacy to business and law groups across the country.
In addition to his more than twenty-five years of experience as a trial lawyer and federal prosecutor, he served early in his career as a top aide and campaign manager for former U.S. Senator John C. Danforth and former Missouri Governor (and U.S. Senator) Christopher S. Bond. In 1992, he was a candidate for Attorney General of Missouri.