Our Website Uses Cookies
We and the third parties that provide content, functionality, or business services on our website may use cookies to collect information about your browsing activities in order to provide you with more relevant content and promotional materials, on and off the website, and help us understand your interests and improve the website.
For more information, please contact us or consult our Privacy Notice.
Your binder contains too many pages, the maximum is 40.
We are unable to add this page to your binder, please try again later.
This page has been added to your binder.
Theodore L. Garrett
Senior Counsel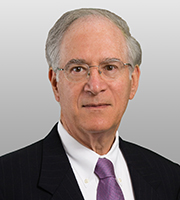 Theodore Garrett, a former Chair of the ABA Section of Environment, Energy and Resources, represents companies and trade associations in federal and state litigation and administrative proceedings, compliance matters and transactions involving federal and state environmental and natural resource matters. He has served as counsel in more than 50 reported cases concerning air quality, water quality, and hazardous waste matters, and he has also served a mediator and arbitrator.
According to Who's Who Legal, "Ted Garrett garnered more votes than any other lawyer for 10 consecutive years…. He exemplifies the dedication and commitment of lawyers to not just their clients but also to shaping laws and regulations. Chambers USA's America's Leading Business Lawyers states that Theodore Garrett enjoys "a longstanding reputation for being 'a very solid and very smart environmental lawyer'" and "comes particularly recommended for his strengths in disputes."
Mr. Garrett's extensive experience involves major compliance, regulatory and enforcement issues, particularly concerning air quality, water quality, and hazardous waste matters. His clients have included Intalco Aluminum, Pechiney, Alcan, Rio Tinto, Vulcan Materials, HollyFrontier, Kerr-McGee, Bristol-Myers Squibb, Sensient Technologies, American Petroleum Institute, PhRMA, ASARCO, Baker Chemical, Richardson Vicks, General Motors, Procter & Gamble, American Chemistry Council, Kansas City Power & Light, Dow Chemical, and American Cyanamid. He has been lead industry counsel in cases involving major EPA air and water regulations and has represented clients in numerous Superfund sites including Chem-Dyne, Aceto, Blackbird Mine, Arlington Blending, Stoller, Price Landfill, Holden Mine, Global Landfill, Heleva Landfill, and Britannia Mine.
Advice, litigation and agency proceedings concerning CERCLA and state cleanup and NRD claims at the Blackbird, Stoller, Holden, Tungsten Queen and Britannia mine sites in the U.S. and Canada.
Advice, agency proceedings, and enforcement and permit litigation for a petroleum refiner concerning several refineries including negotiation of new source review consent decrees.
Advice and representation in litigation concerning environmental liabilities of buyers and sellers under agreements for the sale and purchase of manufacturing facilities.
Serving as a mediator and arbitrator in disputes concerning environmental matters.
Represented the Competitive Enterprise Institute in Sackett v. EPA, a case before the U.S. Supreme Court raising important issues concerning EPA's issuance of enforcement orders under the Clean Water Act.
Significant cases handled by Mr. Garrett include Michigan v. EPA, 213 F.3d 663 (D.C. Cir. 2000) (Clean Air Act); Kelley v. EPA, 25 F.3d 1100 (D.C. Cir. 1994) (Superfund); Chemical Mfg. Ass'n v. NRDC, 470 U.S. 116 (1985) (Clean Water Act); Friends of the Earth v. Facet Enterprises, 618 F.Supp. 532 (W.D.N.Y. 1984) (Clean Water Act); American Cyanamid v. EPA, 810 F.2d 493 (5th Cir. 1987) (Clean Air Act); EPA v. National Crushed Stone Assn, 449 U.S. 64 (1980) (Clean Water Act); and Sun Oil Co. v. United States, 215 Ct.Cl. 716 (1978) (OCSLA lease).
Advice to a lender concerning potential environmental issues at facilities subject to a security interest.
Representation of KCP&L and other clients challenging EPA interstate ozone transport regulations.
Representation of a client in a multi-Region EPA enforcement investigation of water and waste disposal issues at numerous facilities including negotiation of consent decrees.
A manufacturing company in a citizen suit alleging Clean Water Act permit violations.
A pharmaceutical company in a criminal investigation of water compliance issues.
Memberships and Affiliations
American College of Environmental Lawyers, Board of Regents

ABA Section of Environment, Energy and Resources, former Chair


Center for Public Resources, Panel of Neutrals for Environmental Matters

Columbia Law School, Environmental Advisory Committee

District of Columbia Bar: former chair of the Council of Sections and the Environment, Energy, and Resources Section

Mr. Garrett Served as Law Clerk to Chief Justice Warren Burger, U.S. Supreme Court.
Mr. Garrett also served as a Special Assistant to Assistant Attorney General William Rehnquist, U.S. Department of Justice.

Who's Who Legal, "Lifetime Achievement Award" (2015) ("Since we began our awards in 2005, only a small group of elite lawyers have led the research in their fields for multiple years, and only one has done so for an entire decade. From our first awards right up until last year, Ted Garrett garnered more votes than any other environment lawyer, and his peers were unanimous in their appreciation of his market-leading practice. He exemplifies the dedication and commitment of lawyers, not just to their clients but also to the shaping of laws and regulations, and this inaugural lifetime achievement award is presented in recognition of his outstanding accomplishments and for his contribution to the legal sector as a whole.")
"A Tribute To Ted Garrett," ABA Section of Environment, Energy and Resources (September 2017)
Who's Who Legal: "Thought Leaders Global Elite" (2019)
Lawdragon, Leading U.S. Environmental & Energy Lawyers (2021)
Who's Who Legal: "Global Environment Lawyer of the Year" (2005-2014)
American College of Environmental Lawyers (2008-), Board of Regents (2012-)
Chesapeake Legal Alliance, recognition for representation of Blue Water Baltimore on a consent decree to bring Baltimore's water discharges into compliance (October 2017).
The Lawdragon 500: Leading Lawyers in America (2007-2008)
Chambers USA's America's Leading Business Lawyers ("Senior Statesman") (2007-2019) ("Theodore Garrett enjoys a longstanding reputation for being "a very solid and very smart environmental lawyer" and comes particularly recommended for his strengths in disputes.")
The Best Lawyers in America (2006-2019)
Washington DC Super Lawyers (2007-2019)
International Who's Who of Business Lawyers (2006-2015)
Who's Who in the World (2007-2015)
Who's Who in America (2007-2015)
Who's Who in American Law (2007-2015)
Ethisphere Magazine, Attorneys Who Matter (2009)
National Law Journal's "100 Most Influential Lawyers in America" (1994)
Judicial Clerkship
Hon. J. Joseph Smith, U.S. Court of Appeals, Second Circuit
Hon. Warren Burger, Supreme Court of the United States