Our Website Uses Cookies
We and the third parties that provide content, functionality, or business services on our website may use cookies to collect information about your browsing activities in order to provide you with more relevant content and promotional materials, on and off the website, and help us understand your interests and improve the website.
For more information, please contact us or consult our Privacy Notice.
Your binder contains too many pages, the maximum is 40.
We are unable to add this page to your binder, please try again later.
This page has been added to your binder.
Miriam J. Guggenheim
Partner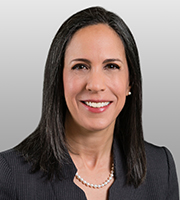 Miriam Guggenheim, co-chair of Covington's Food, Drug & Device Practice Group, assists a broad range of major food and dietary supplement companies in achieving their marketing goals while minimizing regulatory and litigation risks. She also helps clients successfully navigate crises such as recalls and unwanted Congressional or regulatory attention. In addition to her work for individual clients, Ms. Guggenheim serves as outside counsel to a number of key trade associations, helping them accomplish broad industry objectives by engaging with the FDA, FTC, and Congress.
As the food industry faces new challenges – including the implementation of the Food Safety Modernization Act (FSMA), numerous new FDA regulations and guidance documents, and increasing consumer fraud litigation – Ms. Guggenheim remains at the forefront of legislative and regulatory changes, and is highly attuned to food policy and litigation trends. She draws on this deep knowledge and insight to advise clients on all aspects of food development and marketing, from product ingredient sourcing and manufacturing considerations to food labeling and marketing.
For example, Ms. Guggenheim helps clients develop policies and procedures to implement new FSMA requirements, and advises clients in determining whether food ingredients are generally recognized as safe (GRAS) or whether dietary ingredients require new dietary ingredient notifications to FDA. She helps many clients convey the health benefits of their products, including by successfully petitioning the FDA for approval of a number of health claims, and helps ensure that marketing claims are appropriately phrased and adequately substantiated. Ms. Guggenheim also advises clients regarding the most advantageous regulatory categories for the marketing of their products – whether as conventional foods, dietary supplements, or medical foods. Partnering with Covington colleagues in international offices, Ms. Guggenheim helps clients solve regulatory problems across the globe.
Successfully petitioned FDA for an exemption from the new Food Safety Modernization Act (FSMA) hazard analysis and preventive controls requirements for most warehouses and distribution facilities.
Counseled numerous clients through recalls and market withdrawals, including on a global scale, to minimize business disruption, cost, and damage to brands.
Advises clients on GMO labeling and claims, including with respect to new federal legislation and consumer fraud litigation risks.
Prepared submissions to FDA, the U.S. Congress, and local legislative bodies that documented the safety of caffeine in food and beverages and helped stave off restrictions on caffeinated products.
Provided regulatory advice and due diligence on a multi-billion-dollar acquisition of a major dietary supplement company, and on many other mergers and acquisitions in the food and dietary supplement sectors.
Provided strategic regulatory support in numerous food litigation matters.
Drafted influential amicus brief in FTC contempt proceeding against a major dietary supplement marketer.
Advised restaurant and food company clients regarding the new federal menu labeling requirements.
Provided strategic counseling to food and dietary supplement companies receiving warning letters from FDA, and drafted responses to such letters that succeeded in averting further enforcement action.
Provided regulatory and public health policy guidance regarding the development of a number of new food and dietary supplement products, from formulation to labeling, marketing, and website design.
Advised clients regarding issues relating to marketing to children and prepared responses to FTC and CARU inquiries regarding such marketing.
Chambers USA - America's Leading Business Lawyers, Food & Beverages: Regulatory & Litigation (2012-2019)
Best Lawyers in America, FDA Law (2016-2019)
Washington DC Super Lawyers, FDA (2014-2019)
Education
Columbia Law School, J.D., 1996
Harlan Fiske Stone Scholar
University of Pennsylvania, B.A., 1992
magna cum laude

Benjamin Franklin Scholar

Phi Beta Kappa
Judicial Clerkship
Hon. Clarkson S. Fisher, U.S. District Court, District of New Jersey, 1996 - 1997