Our Website Uses Cookies
We and the third parties that provide content, functionality, or business services on our website may use cookies to collect information about your browsing activities in order to provide you with more relevant content and promotional materials, on and off the website, and help us understand your interests and improve the website.
For more information, please contact us or consult our Privacy Notice.
Your binder contains too many pages, the maximum is 40.
We are unable to add this page to your binder, please try again later.
This page has been added to your binder.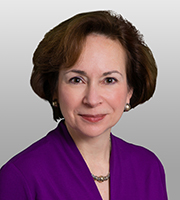 Marialuisa (ML) Gallozzi has helped for-profit and nonprofit policyholders develop and execute efficient and practical insurance recovery strategies that have secured over half a billion dollars for complex, high-value claims. She also helps clients to place and renew insurance coverage, transfer risk in contracts and transactions, and prepare for and manage crises.
Chambers USA described her as "incredibly good at complex settlement structures" and Business Insurance named her as one of its "Women to Watch" in 2014. In 2016, Washington DC Super Lawyers named her one of its "Top 50 Women Lawyers." Recent engagements include:
Cyber: Lead counsel to a hospital system in obtaining insurance recoveries for a system-wide ransomware attack.
Captive: Advice on business interruption coverage.
Employee theft: Represented global companies in significant employee theft losses in the United States and Africa.
Property: Represented D.C. nonprofit corporation in insurance recovery for earthquake damage to historic Union Station.
Product Contamination/Recalls: Advised U.S. suppliers and manufacturers in connection with first-party and third party coverage claims.
D&O
Represented medical device manufacturer in obtaining a full limits recovery for costs of a government investigation.
Represented nonprofit media corporation in the recovery of defense costs under D&O coverage for a governmental investigation by obtaining a reversal of the insurer's denial of coverage.
General Liability
Represented a nonprofit organization in securing coverage from an indemnitor for property damage claims.
Represented multiple pharmaceutical and medical device manufacturers in securing defense and indemnity coverage for mass tort claims and settlements.
Insolvencies/Guaranty Funds
Represented professional services company in negotiating settlement of multiple litigations involving several guaranty associations and an insolvent insurer.
Negotiated numerous multi-million dollar settlements with insolvent insurers for pharmaceutical, medical device, manufacturing and utility companies
Crisis Preparation and Management
Drafted protocols for after-action reviews for major international food manufacturer.
Assisted biotechnology company in preparing for crisis events, including product recall, public relations incident, executive absence, regulator investigations, and power failure.
Advised a consumer product marketing company on communications to interested parties related to a dietary supplement recall.
Representing a component manufacturer before FDA in connection with an international medical device recall.
Transactions/Contracts
Advised a multinational company on an international pooling agreement.
Advised a pharmaceutical company on insurance brokerage and consulting agreements.
Represented a major American food company in complex novation transaction involving workers compensation policies.
Product Recall
Developed an innovative coverage theory and recovered millions from first party and third party insurers who had sued to rescind coverage for losses in connection with an international food recall.
Advised food manufacturers on the procurement of specialty coverage for and claims under contamination and tampering risks.
Property/Cargo
Represented a nonprofit organization in seeking coverage for pharmaceuticals products destroyed by fire.
Represented a financial services company in recovering for its property and business interruption losses caused by the September 11 terrorist attacks.
Cyber
Advised a media company on coverage for a claim under a technology errors and omissions ("E&O") policy.
Advised a sports league on its renewal of a privacy and network liability policy.
Employee Theft
Obtained multiple insurance recoveries for employee theft losses arising out of foreign operations for a global health nonprofit organization.
Specialty
Advises biotechnology companies on procurement of insurance coverages in connection with clinical trials agreements.
Assisted a government contractor in obtaining coverage for international medical evacuation costs.
Ms. Gallozzi is co-counsel for nonprofit D.C. Appleseed in proceedings that led to an order by the DC Commissioner of Insurance, Securities and Banking directing a nonprofit health insurer to develop a plan to spend $56 million of excess surplus on community health needs in the District of Columbia.
District of Columbia Superior Court, Civil Mediator (1997-2009) and Child Protection Mediator (2004-2009)
National Head Start Association, 25th Anniversary Star Honoree
Recognized by Washington DC Super Lawyers as one of the "Top 50 Women Lawyers" (2018)
Named in 2014 by Business Insurance as among "25 Women to Watch," an annual recognition to business leaders and influential executives doing outstanding work in insurance-related fields.
Fellow, American College of Coverage and Extracontractual Counsel
Chambers USA, leading Insurance - Policyholder lawyer
Best Lawyers in America
Guide to the World's Leading Insurance and Reinsurance Lawyers, Legal Media Group/Euromoney
The International Who's Who of Business Lawyers
Washington DC Super Lawyers
Washingtonian, Best Lawyers
Charles F.C. Ruff Pro Bono Lawyer of the Year (2004)