Our Website Uses Cookies
We and the third parties that provide content, functionality, or business services on our website may use cookies to collect information about your browsing activities in order to provide you with more relevant content and promotional materials, on and off the website, and help us understand your interests and improve the website.
For more information, please contact us or consult our Privacy Notice.
Your binder contains too many pages, the maximum is 40.
We are unable to add this page to your binder, please try again later.
This page has been added to your binder.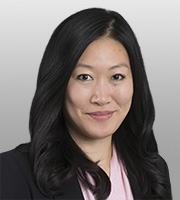 Elizabeth Guo advises clients on regulatory, compliance, and policy matters affecting pharmaceuticals, biological products, medical devices, digital health products and services, cosmetics, and dietary supplements. She counsels clients on compliance and interactions with state and federal regulatory agencies, including the U.S. Food and Drug Administration (FDA) and the Drug Enforcement Administration (DEA). Ms. Guo regularly assists clients with drafting legislation as well as preparing public comments for agency rulemaking. She also provides advice and regulatory due diligence to support corporate transactions and securities filings.
Before attending law school, Ms. Guo advised pharmaceutical, biotechnology, and medical device businesses on evidence-based regulatory strategy and reimbursement policy as a consultant with Avalere Health.
Counsel industry associations regarding legislative developments, including with respect to OTC monograph reform, REMS, and exclusivity issues.
Advise pharmaceutical and dietary supplement businesses on compliance with state and federal laws related to controlled substance research, manufacture, and distribution.
Advise biotechnology companies on approval pathways and regulatory considerations for innovative therapies.
Prepare public comments and submissions to FDA regarding regulatory classification of medical devices.
Conduct regulatory due diligence evaluations for mergers and acquisitions.
Advise patient advocacy organization on FDA regulations for research and development of novel therapies.
Successfully represent a permanent resident and father of two in immigration removal proceedings.
U.S. Senate Committee on Health, Education, Labor, and Pensions, Intern (2016)
Office of Chief Counsel, FDA, Intern (2015)
Avalere Health, Senior Associate (2011-2013)
Education
Harvard Law School, J.D., 2016
Harvard School of Public Health, M.P.H., 2016
Harvard University, A.B., 2011