Our Website Uses Cookies
We and the third parties that provide content, functionality, or business services on our website may use cookies to collect information about your browsing activities in order to provide you with more relevant content and promotional materials, on and off the website, and help us understand your interests and improve the website.
For more information, please contact us or consult our Privacy Notice.
Your binder contains too many pages, the maximum is 40.
We are unable to add this page to your binder, please try again later.
This page has been added to your binder.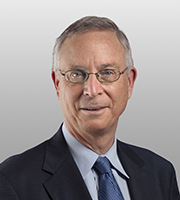 Mr. Goodwin is one of the nation's leading insurance coverage practitioners, ranked in the highest tier by Chambers USA both nationally and in California. The leading legal directory described him as "one of the strongest players around in contentious insurance cases," and "a world-class litigator and an expert in insurance disputes." He has also been recognized by Law360 as one of the country's top three "most valuable players" in the insurance practice area.
With 35 years of experience representing corporate policyholders in insurance coverage disputes and litigation, his practice runs the gamut of insurance issues, including major property damage and business interruption losses, errors and omissions, cyber, financial guarantee, fidelity, and director and officer claims, offshore and onshore construction insurance disputes, and marine, representation and warranty, products liability, and environmental insurance matters. Mr. Goodwin has served as a party arbitrator or counsel for a party in insurance arbitrations in the U.S., the UK, Bermuda, and Singapore. He also is a highly experienced appellate advocate who has argued more than 50 appeals.
Mr. Goodwin has served as an adjunct professor at University of California at Berkeley Law School, where he taught courses on insurance law.
Lead counsel for UnitedHealth Group in two successful jury trials concerning professional liability coverage for consumer class action claims.
Represented a paint manufacturing company in a successful jury trial and two dozen successful summary adjudication motions resulting in hundreds of millions of dollars of coverage for the client's asbestos liabilities.
Represented BP America in insurance issues arising from the sinking and explosion of the Deepwater Horizon.
Represented a financial institution in a successful trial, affirmed on appeal, to obtain errors and omissions insurance coverage for consumer tort claims.
Represented a chemical manufacturer in a successful arbitration to obtain insurance coverage for business interruption losses following an explosion at an olefins plant.
Obtained summary judgment in favor of a hospitality industry client on a nine figure builders' risk insurance claim arising out of a construction accident.
Represented LyondellBasell Industries in a significant business interruption insurance claim that resulted in a multi-hundred million dollar recovery for the insured.
Represented PG&E in a successful trial involving insurance coverage for environmental liabilities.
Obtained summary judgment for Hewlett-Packard in a significant business interruption claim arising out of employee sabotage.
Represented a major financial institution in a successful arbitration concerning insurance coverage for mortgage-backed securities claims.
Represented BP plc in litigation concerning builders' risk insurance for numerous construction projects.
Represented clients in dozens of first-party property damage, business interruption or builders' risk insurance claims arising at locations around the world, including Guam, India, Indonesia, Jamaica, the Netherlands, Norway, Spain, United Kingdom, Vietnam, and 22 states in the United States.
Handled a huge variety of third party liability insurance matters, including products and environmental liabilities, director and officer, errors and omissions claims, employment disputes, and nuclear liabilities.
Represented clients in numerous claims and insurance issues involving subprime mortgage and credit risks.
Appointed as an arbitrator in eight insurance arbitrations.
Served as an expert witness on insurance and civil procedure issues in courts in England, Australia, and the United States.
Argued insurance coverage appeals before the California Supreme Court, the United States Courts of Appeals for the Fifth and Ninth Circuits, and numerous state appellate courts.
Memberships and Affiliations
American Law Institute
American College of Coverage and Extracontractual Counsel
Risk and Insurance Management Society (RIMS)
Former President, Insurance Coverage Section of the Bar Association of San Francisco
San Francisco Mechanics' Institute, former Chair of the Board of Trustees
State Bar of California Insurance Law Section, former Member, Board of Directors
Law360 - MVP, Insurance
The Daily Journal, Top 100 Lawyers in California
Best Lawyers in America - Lawyer of the Year, Insurance Law
Chambers USA - Highest tier of policyholder lawyers both nationally and in California; listed as one of only two "star individuals" in California
Euromoney's Guide to the World's Leading Insurance and Reinsurance Lawyers
The Practical Law Company (PLC) - Insurance and Reinsurance, The Law and Leading Lawyers Worldwide
Super Lawyers of Northern California
Benchmark Litigation, Local Star - California
Who's Who Legal: Insurance and Reinsurance
Woodward/White Inc.'s "Best Lawyers in America"
Legal 500 US - Recommended as an Insurance, Healthcare, and Energy: Litigation Lawyer
Best of the Best USA - Insurance and Reinsurance
Education
Stanford Law School, J.D., 1982
Stanford Law Review, Articles Editor
University of Oxford, M.A., 1981
University of Oxford, B.A., 1976
University of California, Santa Cruz, A.B., 1974