Your binder contains too many pages, the maximum is 40.
We are unable to add this page to your binder, please try again later.
This page has been added to your binder.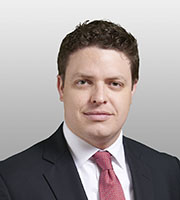 Andrew Garrahan represents and counsels clients at the intersection of law and politics. He guides them through both regulatory compliance issues and government investigations on matters including state and federal campaign finance, ethics, lobbying, and corruption.
Mr. Garrahan's prior career in political fundraising gives him a unique perspective on the challenges faced by his clients, which include corporations, candidates, government officials, political and nonprofit organizations, and private individuals.
Mr. Garrahan also represents corporate and individual clients in all manner of state and federal investigations.
Advises a major pharmaceutical company on state campaign finance, lobbying, and pay-to-play matters.
Represents a consulting firm in an investigation by the House Committee on Oversight and Government Reform (OGR).
Represents officers of a corporation in a federal criminal campaign finance investigation and related Federal Election Commission (FEC) enforcement.
Counsels several corporations, nonprofits, and individuals on California ballot measure and campaign finance activity.
Successfully guided a trade association through an audit by the New York Joint Commission on Public Ethics (JCOPE).
Achieved a dismissal of an investigation of a nonprofit organization by the Department of Justice, National Security Division's Foreign Agents Registration Act (FARA) Unit, and a determination that the organization was not a foreign agent.
Advises representatives of a foreign corporation on federal corruption allegations and related civil matters.
Represents a Fortune 100 company in investigations by the Department of Justice and Department of State under the International Traffic in Arms Regulations (ITAR).
Advised an international organization in an investigation by the Senate Homeland Security and Governmental Affairs Committee (HSGAC).
Represented a Fortune 100 manufacturer in responding to a subpoena in a political corruption investigation by the Department of Justice.
Advised a federal Super PAC on compliance with the Federal Election Campaign Act and related FEC regulations.
Represented a pharmaceutical corporation in investigations by the House Committee on Oversight and Government Reform (OGR) and Senate Special Committee on Aging.
Counseled an individual through an investigation by the House Financial Services Subcommittee on Oversight and Investigations.
Audited the political law compliance practices of a major natural resources corporation, proposed new compliance policies, and assisted with their implementation.
Represented a government contractor in a fast-paced, highly sensitive federal investigation into its security practices.
Memberships and Affiliations
California Political Attorneys Association

American Bar Association
Virginia Bar Association
Alexandria Bar Association
Trust for the George Washington Memorial Parkway, Board of Trustees (2016)
City of Waynesboro, Virginia, Office of the Commonwealth's Attorney, Intern (2012-2013)
U.S. Attorney's Office for the Eastern District of Virginia, Alexandria Office, Intern (2011)
Virginians for Wagner for Lt. Governor, Finance Director (2008-2009)
Friends of Mark Warner, Deputy Finance Director (2007-2008)
Democratic Congressional Campaign Committee, Finance (2005-2007)
Education
University of Virginia School of Law, J.D., 2013
Raven Society
Journal of Law & Politics, Development Editor
University of Virginia, B.A., 2005