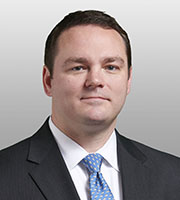 Jason Fowler is a patent litigator who represents clients from a range of industries in high-stakes patent litigation, with notable experience handling disputes in the pharmaceutical, high-tech, automotive, agricultural, and outdoor industries. Clients benefit from his sophisticated knowledge of complex technologies, combined with insight gained from spending more than three years as a clerk in both the district court and court of appeals, as well as a background in Mechanical Engineering. In addition to his extensive experience as a litigator, Mr. Fowler has also developed significant expertise in the creation of persuasive demonstratives and effective use of them in litigation. He has co-authored a book on the subject, entitled "Demonstratives: Definitive Treatise on Visual Persuasion."
Mr. Fowler works with clients at all stages of litigation, from inception of the case through trial and appeal. His trial experience includes both jury and bench trials before both district courts and the International Trade Commission. He regularly handles cases at the Court of Appeals for the Federal Circuit, and has argued at the Court of Appeals for Veterans Claims.
Mr. Fowler is a member of the Washington, DC Advisory Council for Techbridge Girls, a non-profit organization that endeavors to expand the academic and career options for girls in science, technology, and engineering. Mr. Fowler also previously served as an adjunct professor at Howard University School of Law, teaching Patent Practice & Procedure. He is also a former lecturer on patent law for the Patent Resources Group.
Prior to law school, Mr. Fowler was an engineer at a major manufacturer of marine electronics.