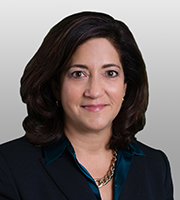 Denise Esposito is the co-chair of the firm's Food, Drug, and Device Practice Group. Her practice focuses on a broad range of regulatory, strategic, and policy matters affecting pharmaceutical, biotechnology, device, and medical technology companies. With more than two decades of experience in the industry, including senior leadership roles within FDA and as the general counsel of a publicly traded biotechnology company, Ms. Esposito has deep expertise on issues critical to her life sciences clients. Her experience encompasses a wide range of issues relating to medical product development, approval, and marketing, including digital health, combination products, personalized medicine, expedited review and approval, exclusivity determinations, and marketing and promotion. She engages frequently with the U.S. Food and Drug Administration (FDA), both formally and informally, to solve complex strategic and regulatory challenges and to facilitate successful resolution of issues of importance to our FDA-regulated clients.
Ms. Esposito joined Covington in 2015 from FDA, where she served most recently as Chief of Staff to the Commissioner. In this role, Ms. Esposito provided strategic advice to the Commissioner and other senior FDA officials on significant FDA policies and initiatives, and coordinated and managed the Commissioner's priority issues and agency operational issues. She also previously served as Deputy Chief Counsel for Drugs and Biological Products in the FDA Office of the Chief Counsel, and as Deputy Director and Acting Director of the Office of Regulatory Policy in FDA's Center for Drug Evaluation and Research (CDER).
Ms. Esposito has been representing pharmaceutical and biotechnology clients for more than twenty years. Her experience encompasses a wide range of important legal, regulatory, and policy issues relating to the regulation of medical products, including constitutional challenges to FDA's regulation of the pharmaceutical industry, federal preemption of state law, market exclusivity, e-health/digital health products, combination products, expedited review and approval pathways, biosimilars, drug shortages, the marketing and advertising of prescription drugs, and FDA administrative proceedings. Ms. Esposito also has expertise in the development, regulation and procurement of medical countermeasures (MCMs) against chemical, biological, radiological, and nuclear (CBRN) threats and pandemic infectious diseases, including animal rule approvals and special incentives for the development of MCMs.