Our Website Uses Cookies
We and the third parties that provide content, functionality, or business services on our website may use cookies to collect information about your browsing activities in order to provide you with more relevant content and promotional materials, on and off the website, and help us understand your interests and improve the website.
For more information, please contact us or consult our Privacy Notice.
Your binder contains too many pages, the maximum is 40.
We are unable to add this page to your binder, please try again later.
This page has been added to your binder.
Ronald G. Dove Jr.
Of Counsel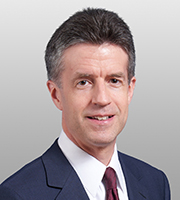 Ron Dove is co-chair of the firm's Intellectual Property Rights practice group, specializing in copyright and trademark litigation and advice. Mr. Dove is also a member of the Pharmaceutical Litigation & Investigations group, where he focuses on litigation under the False Claims Act and consumer protection statutes.
For more than two decades, Mr. Dove has successfully advised and litigated cases for clients in the sports, media, pharmaceutical, and luxury goods industries.
Many of the cases that Mr. Dove has litigated have involved developing and implementing a national strategy that has required prosecuting or defending similar claims against different parties in multiple courts across the United States. For example, Mr. Dove has successfully prosecuted cases on behalf of copyright and trademark owners whose rights have been infringed, as well as defended clients in cases brought by the federal government, state attorneys general, whistleblowers and the class action bar.
Mr. Dove also designs and executes strategies for clients to protect their brands and copyrighted works, with particular emphasis on combatting the unauthorized importation and distribution of counterfeit, gray market and pirated goods and content.
Serve as lead counsel for the Public Broadcasting Service and its member stations in litigation before the Copyright Royalty Board relating to the distribution of statutory copyright royalties.
Assist the National Football League in combatting the unauthorized retransmission and public performance of NFL game telecasts over the internet and on television.
Successful defense of major pharmaceutical companies in multiple state and federal court actions involving drug pricing, reimbursement, product recalls and alleged false claims.
Advise leading consumer and luxury goods makers and publishers on strategies for protecting against the unauthorized importation and sale of counterfeit, gray market and pirated goods, and then implement those strategies with U.S. Customs and before the courts.
Litigate trademark and copyright infringement cases in the Eastern District of Virginia, the District of Columbia and other federal courts.
Drafted amicus brief on behalf of the Copyright Alliance, supporting copyright protections for authors, composers, journalists, filmmakers, artists, and other creative individuals and small businesses.
Helped child immigrants obtain Special Immigrant Juvenile Status and domestic abuse victim obtain legal residency under the Violence Against Women Act.
Served as co-counsel for plaintiff family in wrongful death action resulting in jury verdict and substantial damages against 911 dispatcher and supervisors for grossly negligent response to emergency call.
Overturned conviction of two street musicians accused of panhandling outside local subway station.
Recognized in Legal 500 US for Intellectual Property - Copyright (2011-2017); Intellectual Property - Trademarks - Litigation (2015-2017); Trade Secrets (Litigation and Non-Contentious) (2015-2017)
Education
Harvard Law School, J.D., 1991
Milligan College, B.A., 1987
summa cum laude
Ivor C. Jones Outstanding Senior Award
Leadership Award
US Presidential Scholar