Ronald G. Dove Jr.
Of Counsel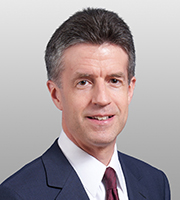 Ron Dove is co-chair of the firm's Intellectual Property Rights practice group, specializing in copyright and trademark litigation and advice. Mr. Dove is also a member of the Pharmaceutical Litigation & Investigations group, where he focuses on litigation under the False Claims Act and consumer protection statutes.
For more than two decades, Mr. Dove has successfully advised and litigated cases for clients in the sports, media, pharmaceutical, and luxury goods industries.
Many of the cases that Mr. Dove has litigated have involved developing and implementing a national strategy that has required prosecuting or defending similar claims against different parties in multiple courts across the United States. For example, Mr. Dove has successfully prosecuted cases on behalf of copyright and trademark owners whose rights have been infringed, as well as defended clients in cases brought by the federal government, state attorneys general, whistleblowers and the class action bar.
Mr. Dove also designs and executes strategies for clients to protect their brands and copyrighted works, with particular emphasis on combatting the unauthorized importation and distribution of counterfeit, gray market and pirated goods and content.