Our Website Uses Cookies
We and the third parties that provide content, functionality, or business services on our website may use cookies to collect information about your browsing activities in order to provide you with more relevant content and promotional materials, on and off the website, and help us understand your interests and improve the website.
For more information, please contact us or consult our Privacy Notice.
Your binder contains too many pages, the maximum is 40.
We are unable to add this page to your binder, please try again later.
This page has been added to your binder.
Natalie M. Derzko
Of Counsel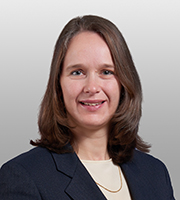 Natalie Derzko is of counsel practicing in the areas of intellectual property, strategic counseling, due diligence, patent prosecution, patent litigation, intellectual property policy and law reform. She procures patents and counsels clients on patent matters in a range of technology areas, including pharmaceuticals, biotechnology, nutritional supplements, food technology, and industrial and consumer chemicals. She also counsels clients regarding Bayh-Dole issues and regulatory issues arising under the Hatch-Waxman legislation. Dr. Derzko earned a doctorate from Columbia in which her thesis focused on Hatch-Waxman issues.
She has written and spoken to various audiences on general and specific patent matters and has previously taught "Legal Aspects of Biotechnology" at Johns Hopkins University.
Leading role in providing transactional and due diligence patent advice to a pharmaceutical company in its acquisition of certain animal health assets.
Developing scientific case strategy for a Hatch-Waxman patent litigation matter.
Leading role on an extensive patent due diligence project for a pharmaceutical company that acquired an oncology pharmaceutical product line.
Expert witness in Hatch-Waxman case on Orange Book patent listing and patent term extension issues and general advice to varied pharmaceutical companies in these areas.
Strategic patent advice and assistance on various pre-litigation assessments and litigation matters in the pharmaceutical and biotechnology areas.
Patent policy analysis, advice and advocacy in the Bayh-Dole, Hatch-Waxman and follow-on-biologics areas.
Bayh-Dole advice to varied life sciences companies relating to subject inventions and domestic manufacturing issues.
Strategic patent prosecution advice and representation of various life sciences companies before the U.S. Patent and Trademark Office.
Patent due diligence projects pertaining to financings of emerging biotechnology companies.
Advice to pharmaceutical companies regarding Bayh-Dole Act and regarding negotiating a CRADA relationship with the NIH.
Advice to an educational foundation on intellectual property ownership and Bayh-Dole related issues.
Legal Elite, Washington SmartCEO (December 2009)
Education
Columbia Law School, J.S.D., 2005
Julius Silver Fellow in Law, Science and Technology
Johns Hopkins University, M.S., 2001
Harvard Law School, LL.M., 1995
Fulbright Scholar

Harvard Environmental Law Review, Line Editor
Osgoode Hall Law School, J.D., 1993
Osgoode Hall Law Journal, Senior Editor
Trinity College, University of Toronto, B.S., 1991
Bar Admissions
Canadian Patent Office
District of Columbia
Massachusetts
New York
Ontario
U.S. Patent and Trademark Office