Our Website Uses Cookies
We and the third parties that provide content, functionality, or business services on our website may use cookies to collect information about your browsing activities in order to provide you with more relevant content and promotional materials, on and off the website, and help us understand your interests and improve the website.
For more information, please contact us or consult our Privacy Notice.
Your binder contains too many pages, the maximum is 40.
We are unable to add this page to your binder, please try again later.
This page has been added to your binder.
Mitchell F. Dolin
Partner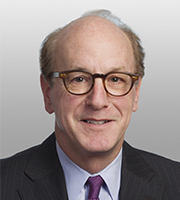 Mitchell Dolin, who co-chairs Covington's highly regarded global insurance recovery practice, has successfully handled a wide array of matters in trial and appellate courts across the country, domestic and international arbitral proceedings, and high-value mediations and negotiations. He has represented corporate and other policyholders in pursuing coverage for a broad range of underlying liabilities, including antitrust, employment, environmental, intellectual property, mass tort, media, professional liability, and shareholder claims, as well as for first-party property, business interruption, cargo, event cancellation, political risk, product recall, rep-and-warranty, and trade credit losses. Mr. Dolin has been ranked by Chambers USA as one of the nation's top policyholder lawyers for more than a decade, and Chambers has described him as "universally lauded for his deep policyholder experience and knowledge" and "'off the charts phenomenal.'" For several years, he also chaired the firm's arbitration practice and has served as an advocate and arbitrator in domestic and international arbitrations.
In the mass-tort field, he has litigated and arbitrated coverage disputes for Cardinal Health, Eli Lilly, the National Football League, and numerous other clients. He led the firm's efforts as special insurance counsel to both Owens Corning and Congoleum, each of which resolved its asbestos coverage disputes and successfully emerged from bankruptcy. For Owens Corning, he secured approximately $1.5 billion in coverage in a series of lawsuits, arbitrations, and mediations.
His D&O and professional liability insurance representations have included work on coverage matters for companies, controlling shareholders, officers and directors, law firms, and universities, including for clients such as Autoliv, Booz Allen, El Pollo Loco, Martha Stewart Living, the NFL, Owens Corning, PG&E's outside directors, S&P Global f/k/a McGraw Hill Financial), Sprint Nextel, and UBS, with litigated victories as lead counsel in such cases as Houston Casualty v. Sprint Nextel, 2010 WL 4852649 (E.D. Va.), NFL v. Vigilant, 36 A.D.3d 207 (N.Y. 2006), and Owens Corning v. National Union, 257 F.3d 484 (6th Cir. 2001).
Other previous representations include: AfricInvest, a Tunis-headquartered private equity firm, in a political risk claim against the World Bank's Multilateral Investment Guarantee Agency; Insight Health Services in Minnesota state court litigation over healthcare professional liability coverage; Dow Corning in various cases concerning coverage for breast implant claims, including one which led to a successful resolution after a federal appeals court held that an adverse 2-to-1 arbitral award was merely a non-binding prelude to litigation (Dow Corning v. Safety Nat'l, 335 F.3d 742 (8th Cir. 2003)) and another in which a federal court ruled that an insurer seeking to claw back a settlement payment was subject to a set-off defense (In re Dow Corning, 2010 WL 3927738 (E.D. Mich.)); UBS Real Estate Investments, the mortgage lender to the retail leaseholder at the World Trade Center, in the landmark 9/11 property insurance litigation (World Trade Center Properties v. Hartford, 345 F.3d 154 (2d Cir. 2003)); then-President Clinton in connection with coverage for Jones v. Clinton; the American Association of Blood Banks in coverage litigation concerning HIV-tainted blood lawsuits; Oglebay Norton in pursuing coverage for asbestos and workplace harassment claims; Exxon in coverage litigation and international arbitration resulting in insurance recoveries of $780 million for Valdez-related losses; Nestle in a precedent-setting environmental coverage lawsuit (Nestle v. Aetna, 842 F. Supp. 125 (D.N.J. 1993)); coalitions of policyholders as amici curiae in landmark insurance cases such as Goodyear v. Aetna, 95 Ohio St. 3d 512 (2002), Frontier v. Merchants, 91 N.Y.2d 169 (1997), and North River v. CIGNA Re, 52 F.3d 1194 (3d Cir. 1995); and serving earlier in his career on the defense teams for a major western railroad in the coal slurry pipeline antitrust litigation and a leading French fragrance manufacturer in dealer termination antitrust litigation.
Represented organizations advocating as amici curiae in defense of gun control measures, including in U.S. v. Castleman, 134 S. Ct. 1405 (2014) and Woollard v. Gallagher, 712 F.3d 585 (4th Cir. 2013).
Successfully argued for vacation of client's death sentence before Mississippi Supreme Court in State v. Tokman, 564 So. 2d 1339 (Miss. 1990), and represented client in subsequent trial court proceedings that resulted in the disqualification of the entire Hinds County District Attorney's office and a negotiated plea shortly before a new capital sentencing trial.
Represented amici curiae in Supreme Court cases involving civil rights issues, including McMillian v. Monroe County, 520 U.S. 781 (1997), Patterson v. McLean Credit Union, 491 U.S. 164 (1989), Shaare Tefila Congregation v. Cobb, 481 U.S. 615 (1987), and St. Francis College v. Al-Khazraji, 481 U.S. 604 (1987).
Represented organizations challenging federal agency action in City of Alexandria v. Slater, 198 F.3d 862 (D.C. Cir. 1999) and Women Involved in Farm Economics v. USDA, 876 F.2d 994 (D.C. Cir. 1989).
Memberships and Affiliations
American Bar Association, previously served as co-chair of the Litigation Section's Task Force on the Judiciary and its Federal Legislation Committee and testified on behalf of the ABA on federal jurisdiction and ADR issues at hearings before House Judiciary Subcommittees.
American Bar Foundation, Fellow (elected 2013)
American College of Coverage Counsel, Fellow (elected 2014)
American Law Institute, Life Member (elected 1992)
Catalogue for Philanthropy, Board Member (2018-)
CPR International Institute's Regional Panel of Neutrals (2003-)
D.C. Board on Professional Responsibility Hearing Committee No. 3, Chair (1997-1999)
Human Rights First, Board Member (1994-2004)
Law360, Insurance Editorial Advisory Board (2011)
National Eagle Scout Association, Member
The Best Lawyers in America (2019) (Arbitration, Commercial Litigation, Insurance Law, International Arbitration, and Mediation)
The Best Lawyers in America (2013 and 2019) (Washington Insurance Lawyer of the Year)
Chambers USA: America's Leading Lawyers for Business (2019) (ranked in Band 1 for Insurance both nationally and in DC for more than ten years)
The Legal 500 US (2019) ("Leading Lawyer" for Insurance)
Benchmark Litigation (2020), National Practice Area Star and Local Litigation Star
Washingtonian (2011) (Best Lawyers)
Legal Times (Feb. 26, 2007) (profiled as one of ten "leading lawyers" in the insurance field)
International Commercial Litigation magazine, "Commercial Prosecutors of the Year" (1997)
Benjamin J. Cardozo Citation of Merit, Anti-Defamation League of B'nai B'rith (1987)
Education
New York University School of Law, J.D., 1981
Tufts University, B.A., 1978
Bar Admissions
District of Columbia
U.S. District Court, District of Columbia
U.S. District Court, Eastern District of Michigan
U.S. Court of Appeals for the District of Columbia Circuit
U.S. Court of Appeals for the Second Circuit
U.S. Court of Appeals for the Third Circuit
U.S. Court of Appeals for the Fourth Circuit
U.S. Court of Appeals for the Sixth Circuit
U.S. Court of Appeals for the Seventh Circuit
U.S. Court of Appeals for the Eighth Circuit
U.S. Court of Appeals for the Ninth Circuit
U.S. Court of Appeals for the Eleventh Circuit
U.S. Supreme Court