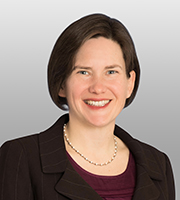 Julie Dohm focuses on regulatory matters for pharmaceutical and biotechnology clients. She has handled matters involving a wide-range of important regulatory topics such as preemption, drug promotion, drug shortage, import-export, exclusivity, and generic drug approvals.
Prior to joining the firm, Dr. Dohm served as the lead on compounding for the U.S. Food and Drug Administration (FDA). Between 2016 and 2019, she was responsible for the overall leadership of the agency's compounding initiative, including inspections and enforcement, policy development, and stakeholder collaboration.
Dr. Dohm started at FDA in 2010 as a civil litigator in its Office of Chief Counsel. She represented the FDA with the Department of Justice in affirmative, defensive, and third-party litigations at the trial and appellate levels, including at the U.S. Supreme Court. She also served as a drugs counselor, advising FDA's Center for Drug Evaluation and Research on legal issues relating to generic drugs and biosimilars.
Before pursuing law, Dr. Dohm was a postdoctoral scientist at Northwestern University and a graduate student at Johns Hopkins University where she focused on structural and biophysical characterization of small molecule drugs, nucleic acids, and proteins. She has published multiple peer-reviewed scientific articles and holds two patents.