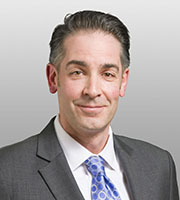 Chris Denig represents companies, boards of directors, and senior executives in government enforcement matters, internal investigations, and related litigation.
As a partner in the White Collar Defense & Investigations practice, Mr. Denig routinely represents clients before the U.S. Department of Justice, Securities & Exchange Commission, Congress, State Attorneys General, and other law enforcement and regulatory agencies. Mr. Denig has advised clients in the life sciences, financial services, defense, technology, and manufacturing industries on a variety of white collar matters including those relating to foreign bribery, corporate whistleblowers, accounting fraud, insider trading, export controls, and government contracting.
He regularly represents major pharmaceutical and medical device companies with issues relating to current Good Manufacturing Practices (cGMP), off-label promotion, kickbacks, Park issues, state consumer protection/unlawful trade practices issues, as well as False Claims Act and other civil litigation. Mr. Denig also has experience managing complex eDiscovery projects.
Mr. Denig clerked for Judge Richard M. Berman of the U.S. District Court for the Southern District of New York. He earned his J.D. from Columbia Law School and B.A. from Swarthmore College.