Our Website Uses Cookies
We and the third parties that provide content, functionality, or business services on our website may use cookies to collect information about your browsing activities in order to provide you with more relevant content and promotional materials, on and off the website, and help us understand your interests and improve the website.
For more information, please contact us or consult our Privacy Notice.
Your binder contains too many pages, the maximum is 40.
We are unable to add this page to your binder, please try again later.
This page has been added to your binder.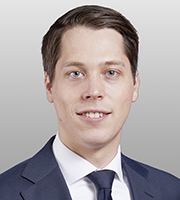 Perrin Cooke is an associate in the firm's Washington, DC office and a member of the White Collar Defense and Investigations, Election and Political Law, and Public Policy practice groups, with a focus on assisting clients in responding to high-profile congressional investigations.
Assists companies and individuals in responding to formal and informal inquiries from Congress and executive branch agencies for documents, information, and testimony, with experience preparing CEOs and other senior executives to testify before challenging congressional oversight hearings.
Provides compliance guidance to non-profit organizations and individuals related to political communications programs.
Counsels clients on compliance with federal, state, and local gift and travel rules, as well as pay-to-play regulations and post-employment restrictions for public employees.
Representing a leading technology company in an investigation by the U.S. House Committee on the Judiciary regarding competition in digital markets.
Represented a major pharmaceutical manufacturer in an investigation by the U.S. House Committee on Oversight and Reform regarding drug pricing and access issues, including preparing its CEO to testify before the Committee.
Represented a prominent non-profit organization in a congressional inquiry related to youth protection policies and practices.
Represented a media organization in investigations by the Senate Select Committee on Intelligence and the House Permanent Select Committee on Intelligence.
Represented a major think tank in a Senate Select Committee on Intelligence investigation.
Represented a leading think tank in an internal review of Foreign Agents Registration Act compliance.
Conducted an internal investigation for a global manufacturing company involving allegations of corruption, conflicts of interests, and prohibited sales to restricted Chinese defense companies.
Represented a major medical device manufacturer in government investigations relating to adverse event reporting and regulatory compliance issues.
Represented individual voters and advocacy organizations before a three-judge panel in federal litigation challenging Ohio's congressional districting scheme as a unconstitutional partisan gerrymander.
Represented the University of California and its President, Janet Napolitano, in litigation challenging the rescission of the Deferred Action for Childhood Arrivals ("DACA") program.
Office of the White House Counsel, Intern (2013)
Sen. Kay R. Hagan (NC), Legislative Assistant (2009-2011)
Washington DC Super Lawyers, Criminal Defense: White Collar "Rising Star" (2020)
Education
Columbia Law School, J.D., 2014
James Kent Scholar
Harlan Fiske Stone Scholar
Columbia Journal of Environmental Law, Senior Articles Editor
University of Pennsylvania, B.A., 2006
Judicial Clerkship
Hon. James A. Wynn, Jr., U.S. Court of Appeals, Fourth Circuit, 2016 - 2017
Hon. Beryl A. Howell, U.S. District Court, District of Columbia, 2015 - 2016