Our Website Uses Cookies
We and the third parties that provide content, functionality, or business services on our website may use cookies to collect information about your browsing activities in order to provide you with more relevant content and promotional materials, on and off the website, and help us understand your interests and improve the website.
For more information, please contact us or consult our Privacy Notice.
Your binder contains too many pages, the maximum is 40.
We are unable to add this page to your binder, please try again later.
This page has been added to your binder.
Krista Hessler Carver
Partner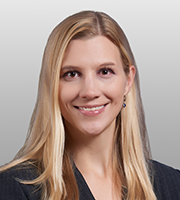 With over a decade of experience, Krista Hessler Carver advises companies in the biotechnology and pharmaceutical industries on complex and high-stakes FDA regulatory and legislative matters and related disputes.
Ms. Carver counsels clients on an array of issues, including biosimilars, orphan drug, and Hatch-Waxman regulatory issues; digital health; gene therapies; pediatric testing; regulatory exclusivities and life cycle management strategies; priority review vouchers; risk evaluation and mitigation strategies (REMS); FDA's expedited programs; regulation of human cellular, tissue, and cellular and tissue-based products (HCT/Ps); and proprietary naming of pharmaceuticals.
Ms. Carver also assists clients with advocacy before FDA, including formal dispute resolution requests and citizen petitions, and with legislative issues surrounding amendments to the Federal Food, Drug, and Cosmetic Act and related laws, including the 21st Century Cures Act, FDA Reauthorization Act of 2017, and the SUPPORT for Patients and Communities Act.
Ms. Carver writes and speaks regularly on subjects such as biosimilars and life sciences legislation. She co-authored a comprehensive article on the BPCIA, "An Unofficial Legislative History of the Biologics Price Competition and Innovation Act of 2009" (Food and Drug Law Journal, 2010).
Outside counsel to PhRMA on FDA regulatory aspects of the FDA Reauthorization Act of 2017 and the 21st Century Cures Act. Advises PhRMA on a range of regulatory and legislative matters including with respect to biosimilars, orphan drugs, pediatric testing and exclusivity, REMS, and Hatch-Waxman issues.
Counsel clients on digital health strategies for pharmaceutical and biotechnology products.
Served as international expert in the areas of regulatory data protection and patent linkage as part of a series of workshops hosted by the Tsinghua University Law School to inform efforts to revise the Drug Administration Law in China.
Advise clients on gene therapy products, including issues regarding orphan-drug exclusivity, risk evaluation and mitigation strategies, and the site certification process.
Develop citizen petitions for innovative companies regarding safety testing standards, labeling issues, and therapeutic equivalence determinations for generic and section 505(b)(2) applications. For example, on behalf of Auxilium Pharmaceuticals, prepared successful citizen petition regarding necessary testing for generic versions of Testim.
Assisted biotechnology innovators in legislative matters leading up to enactment of the Biologics Price Competition and Innovation Act of 2009 (BPCIA). Represent numerous biotechnology innovators regarding the BPCIA and FDA implementation of the biosimilars pathway, including preparation of comments on FDA draft guidance and citizen petitions.
Representation of major pharmaceutical company in successful dispute resolution proceeding regarding eligibility for pediatric exclusivity.
Representation of major pharmaceutical companies with respect to requests for orphan-drug designation, preparation of requests for reference product exclusivity, and counseling on other regulatory exclusivity issues for drugs and biologics.
Advise clients on securing and transferring priority review vouchers and provide regulatory support for related transactions.
Memberships and Affiliations
Food & Drug Law Journal, Editorial Advisory Board, Member (2008-2013), Chair (April 2012-April 2013)
Food and Drug Law Institute, Drugs and Biologics Committee, Past Member
ABA Science and Technology Law Section, Former Council Member and Former Chair, Biotechnology Law Committee

The Best Lawyers in America, FDA Law (2018-2019)
Washington DC Super Lawyers, Food and Drug "Rising Star" (2016-2019)

COVID-19: Legal and Business Toolkit
We are helping clients around the world navigate this evolving, complex situation.
View the Toolkit
Education
Harvard Law School, J.D., 2006
magna cum laude
Harvard Journal of Law and Technology, Submissions Committee

College of William and Mary, B.S., 2003
summa cum laude
B.S. in Chemistry
Phi Beta Kappa