Your binder contains too many pages, the maximum is 40.
We are unable to add this page to your binder, please try again later.
This page has been added to your binder.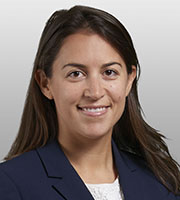 Libbie Canter is a member of the Communications and Media and Data Privacy and Cybersecurity Practice Groups. She advises clients on managing risks under federal and state data privacy and communications laws, as well as advising clients on privacy-by-design strategies and third-party risk management. As part of her practice, she regularly represents clients in commercial transactions relating to content distribution and those involving personal data and cybersecurity risk.
Advises major technology and consumer electronics companies on data collection, use, and disclosure practices, including privacy-by-design strategies.
Advised Consumer Privacy Ombudsman on sale of consumer personal information in possession of Borders Group, Inc.
Counsels clients on data security breaches, including compliance with notification requirements and advice regarding possible regulatory enforcement actions.
Advises major financial services company on compliance with Gramm-Leach-Bliley Act and in connection with mergers and acquisitions and other transactions.
Advises major companies in strategic transactions, including Microsoft Corp. in its 8.5 billion acquisition of Skype Global S.à.r.l.
Represents various television industry clients on legislative, FCC and industry issues, including retransmission consent policy, program access and program carriage rules, major industry mergers, EEO compliance, and political broadcasting issues.
Counsels clients on e-mail marketing and telemarketing strategies, including advising on questions under the Controlling the Assault of Non-Solicited Pornography and Marketing (CAN-SPAM) Act, the Telephone Consumer Protection Act, and implementing regulations, as well as in connection with related policy and litigation matters.
Counsels trade group on constitutional issues in connection with FCC proceeding.
Represented African American employee in connection with employment discrimination and retaliation suit filed in federal court; obtained favorable settlement for client.
Represented inmate in parole hearing before the U.S. Parole Commission.
Drafted amicus brief to the U.S. Supreme Court on validity of federal criminal statute under the Commerce Clause.
Memberships and Affiliations
Federal Communications Bar Association
Research Assistant and Acting Legislative Assistant for U.S. Senator Timothy P. Johnson (D - S.D.) from 2003-2005 on banking and telecommunications issues.
Law360, Cybersecurity & Privacy "Rising Star" (2017)
Education
University of Virginia School of Law, J.D., 2008
Order of the Coif
Articles Editor, Virginia Law Review
Duke University, A.B., 2003
Judicial Clerkship
Hon. M. Blane Michael, U.S. Court of Appeals, Fourth Circuit
Bar Admissions
District of Columbia
Virginia