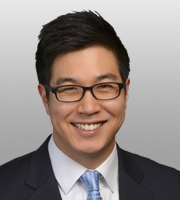 Daniel Cho practices in various areas of intellectual property law, including high-stakes patent and trademark infringement cases, inter partes review proceedings, trade secret misappropriation cases, and IP risk management and counseling. He has litigated cases before the United States Court of Appeals for the Federal Circuit, Patent Trial and Appeal Board (PTAB), and district courts throughout the country. Working across numerous technological areas, Mr. Cho has legal experience involving OLED technology, LED technology, smart phones, touch screen technology, biotechnology, crystallography, pharmaceuticals, medical devices, computer software, casino gaming, oil drilling, and textiles.
As a member of multiple trial teams, Mr. Cho plays a key role in all stages of litigation, from developing case strategies and drafting dispositive motions to preparing trial witnesses and arguing at pre-trial hearings.
In addition to his trial work, Mr. Cho advises clients on patent validity and infringement, provides freedom-to-operate analyses, and conducts due diligence investigations. Mr. Cho provides strategic advice to clients on developing, obtaining, protecting, managing, and enforcing IP rights in accordance with business objectives.
Mr. Cho also maintains an active pro bono practice.
Before his legal career, Mr. Cho served in the ROK-US Combined Forces Command (CFC). He also worked at the United Nations Commission on International Trade Law (UNCITRAL), where he supported the Secretary of Working Group VI—Security Interests.