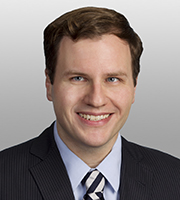 Brian Bieluch is a partner in the Intellectual Property Litigation and Appellate Litigation Groups in the firm's Washington, DC office.
Mr. Bieluch focuses on complex, multi-forum patent and technology litigation, representing companies in disputes with competitors in the U.S. International Trade Commission, district courts, and the Federal Circuit. Mr. Bieluch further has significant experience in serving as coordinating counsel for international IP disputes and regularly works with Covington teams in China and South Korea on complex IP matters.
Mr. Bieluch has represented a wide range of technology clients in the electronics, smartphone, semiconductor, software, financial services, and display technologies industries.
Mr. Bieluch additionally assists clients with various IP licensing and IP transactional issues, focusing on IP legal and related IP business challenges in the high-tech and electronics fields.
Mr. Bieluch has also served on the faculty of the Practicing Law Institute's Patent Law Institute, having written on the topic of the legal status of design-around efforts in light of the Federal Circuit's en banc decision in TiVo, Inc. v. EchoStar Corp., 646 F.3d 869 (Fed. Cir. 2011).