Our Website Uses Cookies
We and the third parties that provide content, functionality, or business services on our website may use cookies to collect information about your browsing activities in order to provide you with more relevant content and promotional materials, on and off the website, and help us understand your interests and improve the website.
For more information, please contact us or consult our Privacy Notice.
Your binder contains too many pages, the maximum is 40.
We are unable to add this page to your binder, please try again later.
This page has been added to your binder.
Benjamin C. Block
Partner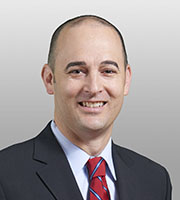 Ben Block is a nationally recognized sports lawyer with first-chair trial and appellate experience. On behalf of both sports- and non-sports clients, Mr. Block often handles cases involving high-stakes requests for preliminary injunctive relief.
Representing the NFL in negotiation of the collective bargaining agreement with the NFL Players Association.
Successfully defending the NFL in Brady v. NFL against antitrust challenges to the 2011 lockout.
Representing the Big East / American Athletic Conference in multiple litigations related to conference realignment.
Representing the American Athletic Conference in multidistrict class action antitrust litigation regarding collegiate athletics eligibility rules.
Successfully defending the NFL against the claims in Atwater v. NFLPA, et. al., (11th Cir. 2010) (negligence and negligent misrepresentation), Vilma v. Goodell (E.D. La. 2013 (defamation), Mancina v. NFL (E.D. La. 2013) (consumer fraud), and Stringer v. NFL (S.D. Ohio 2005) (wrongful death).
Representing the NFL in labor arbitration disputes with the NFL Players Association (e.g., Jimmy Graham, Jonathan Fanene, Michael Vick, Plaxico Burress).
Successfully representing the NFL against challenge to its Draft eligibility rules in Clarett v. NFL (2d Cir.)
Representing patentholders in Hatch-Waxman litigation, including a lead role in securing a preliminary injunction and recall order against an infringing generic company, and in several trial wins.
Representing pharmaceutical clients challenging regulatory action as in violation of the Administrative Procedure Act, including motions for temporary restraining orders and preliminary injunctive relief.
Representing HCA hospitals in litigation regarding reimbursement from health insurers for emergency services provided to health exchange plan members.
Filed Third Circuit amicus brief on behalf of Karen Korematsu, Jay Hirabayashi, and Holly Yasui, arguing for reversal of dismissal of Equal Protection claims in Hassan v. City of New York.
Filed amicus briefs, cited by the Supreme Court in its decision, in support of petition for certiorari and on the merits regarding Apprendi issues associated with criminal fines. See Southern Union Co. v. United States, No. 11-94 (2012).
Representing veterans in the Court of Appeals for Veterans Claims.
Representing clients in criminal and habeas appeals in the 6th Circuit.
Memberships and Affiliations
National Veterans Legal Services Program, Member of the Board
United States Army, Armor Branch, Officer (1993-1998)
Chambers USA, Sports Law (2014-2019)
Legal 500 US, Sports (2014-2016)
Washington DC Super Lawyer, Litigation (2013-2019)
Education
University of Virginia School of Law, J.D./M.A., 2001
Hardy Cross Dillard Scholarship
Goldsten Award for Distinction in the Classroom
Virginia Law Review, Executive Editor
U.S. Military Academy at West Point, B.S., 1993
Judicial Clerkship
Hon. A. Raymond Randolph, U.S. Court of Appeals, District of Columbia Circuit, 2001 - 2002