Our Website Uses Cookies
We and the third parties that provide content, functionality, or business services on our website may use cookies to collect information about your browsing activities in order to provide you with more relevant content and promotional materials, on and off the website, and help us understand your interests and improve the website.
For more information, please contact us or consult our Privacy Notice.
Your binder contains too many pages, the maximum is 40.
We are unable to add this page to your binder, please try again later.
This page has been added to your binder.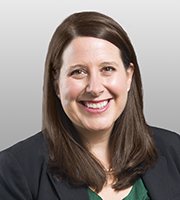 Angelle Smith Baugh is an associate in the firm's White Collar Litigation and Election & Political Law practice groups in Covington's Washington, DC office. Ms. Baugh's practice includes defense against government investigations in civil and criminal matters before the Department of Justice, Federal Election Commission, and Congressional Ethics Committees. She also provides ongoing political law advice, including federal and state ethics, election, and lobbying laws, to companies, trade associations, PACs, and high net-worth individuals.
Represent senior executive of large oilfield services company in Department of Justice criminal investigation into alleged violations of the Foreign Corrupt Practices Act.
Represent major pharmaceutical product manufacturers in connection with Department of Justice civil and criminal investigations.
Counsel clients on compliance with congressional gift and travel rules.
Represented large national bank in connection with government investigation of mortgage lending practices.
Argued four-day jury trial on behalf defendant facing attempted murder and other criminal charges in Montgomery County, Maryland.
Drafted successful motions to exclude evidence in high profile double homicide case in Montgomery County, Maryland.
Advised non-profit on lobbying registration and disclosure regulations.
Memberships and Affiliations
New York State Bar Association
American Bar Association
Louisiana State Society
Congressman W.J. "Billy" Tauzin, Chairman, House Committee on Energy and Commerce, Legislative Assistant
The Walt Disney Company, Government Relations Manager
Motion Picture Association International, Law Clerk
The White House, Executive Office of the President, Legal Intern