Your binder contains too many pages, the maximum is 40.
We are unable to add this page to your binder, please try again later.
This page has been added to your binder.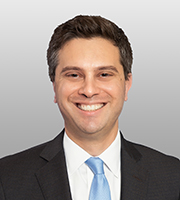 Alex Berengaut represents clients in civil litigation, international arbitrations, and government enforcement proceedings. He has handled a range of arbitral proceedings and U.S. court litigation matters, including at trial, and focuses on disputes involving cross-border issues. Mr. Berengaut's representations have included matters for clients in the technology, defense, energy, and financial services sectors. He currently represents several leading technology companies in litigation and compliance matters relating to electronic surveillance, cybersecurity, and data privacy.
International Arbitration
Obtained arbitral award on behalf of Spanish shareholders in the Yukos Oil Company establishing that the Russian Federation expropriated the company. Renta 4, et al. v. The Russian Federation (Arbitration Institute of the Stockholm Chamber of Commerce).
Secured a $63 million award for Tidewater, the oil services company, in its arbitration against the government of Venezuela. Tidewater Inc. et al. v. Bolivarian Republic of Venezuela (ICSID Case No. ARB/10/5).
Served as Secretary to Ambassador Stuart E. Eizenstat in his capacity as member of the tribunal for the first ever international arbitration filed under the Dominican Republic-Central America Free Trade Agreement. Railroad Development Corporation (RDC) v. Republic of Guatemala (ICSID Case No. ARB/07/23).
Civil Litigation and Government Enforcement Proceedings
Represented Microsoft in its successful constitutional challenge to the statute that allows courts to forbid technology companies from informing their customers about government demands for their private emails and documents. The lawsuit resulted in nationwide reform of the government's practices under the statute. (Press coverage: New York Times, Washington Post)
Ongoing representation of Microsoft in its challenge to the government's attempt to unilaterally compel disclosure of customer emails stored in Ireland using a search warrant. In the Matter of a Warrant to Search a Certain E-Mail Account Controlled and Maintained by Microsoft Corporation, 14-2985-cv (2d Cir.) (Press coverage:

New York Times

,

Washington Post

,

Wall Street Journal

).
Successful representation of Microsoft in an unprecedented First Amendment challenge in the Foreign Intelligence Surveillance Court to restrictions on disclosures about government surveillance. The litigation resulted in new rules that allow technology companies to give their customers more information about how often the government demands their data. In re Motion to Disclose Aggregate Data Regarding FISA Orders, Misc. 13-04 (FISA Ct. 2014) (Press coverage:

New York Times

,

Washington Post

).
Successful representation of Microsoft in a constitutional challenge to a "national security letter" issued by the FBI, resulting in the withdrawal of the letter. In re National Security Letter, 13-CV-01048 (W.D. Wash. 2014) (Press coverage: TechCrunch, Seattle Times).
Successful representation of the National Football League in connection with antitrust litigation arising out of the 2011 lockout. See Brady v. NFL, 644 F.3d 661 (8th Cir. 2011).
Defense of a senior executive charged in parallel criminal and administrative actions for alleged violations of U.S. dual-use export controls.
Representation of technology clients in a variety of litigations arising under the Electronic Communications Privacy Act of 1986 ("ECPA") and related data privacy statutes.
Representation of a leading technology company in a commercial dispute arising out of a national security review by the Committee on Foreign Investment in the United States ("CFIUS").
Mr. Berengaut maintains an active pro bono practice, representing indigent criminal defendants in trial proceedings in state and federal court.
Legal 500 US, Energy - Litigation (2016)
Legal 500 US, Cyber Law (2016)
Legal 500 US, Technology: Data Protection and Privacy (2016)