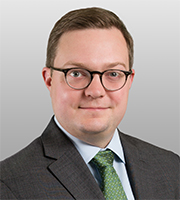 For a decade, Sean Akins has advised corporations, partnerships, international organizations and tax-exempt entities on Federal tax litigation and controversy matters. Mr. Akins has extensive experience litigating before the Tax Court, Court of Federal Claims, and the U.S. District and Appellate Courts.
Mr. Akins is co-author of Kafka, Cavanagh, & Akins, Litigation of Federal Civil Tax Controversies, 2d ed., the leading two-volume treatise on the litigation of tax cases in the United States.
In addition to litigating tax matters, Mr. Akins also provides strategic advice with respect to navigating the Internal Revenue Service administratively. This involves representing clients before the IRS Office of Appeals, in Fast Track proceedings, in connection with standard and CAP-based audits, and in the obtaining of private rulings from the IRS on substantive issues. Mr. Akins also assists clients in responding to Congressional and other administrative tax investigations.